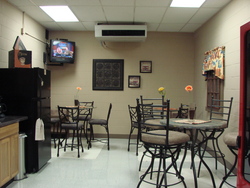 We were happy to support the teachers at Fultondale High School by donating furniture for their teachers' lounge
Fultondale, AL (PRWEB) August 20, 2009
Amidst the rush of school back in session, the Ashley Furniture HomeStore in Fultondale, AL, partnered with a local high school on the community-building project of renovating the Fultondale High School's teachers' lounge.
The project included painting, cabinetry, plumbing and electrical work provided by various community businesses and volunteers. The Ashley Furniture HomeStore donated tables and barstools for the room for the enjoyment of the teachers.
Photos of the finished room can be seen on the Ashley Furniture HomeStore official Flickr page.
"We were happy to support the teachers at Fultondale High School by donating furniture for their teachers' lounge," said Woody Marks, owner of the Ashley Furniture HomeStore that donated the furniture. "The Fultondale and Gardendale community volunteers did an amazing job rallying around this project with their donations and labor. These teachers mean so much to our kids and the community. The teachers spend their time forming the minds of the future leaders in our area. Good schools and teachers are such a vital part of a growing community. We believe it is important for them to have a few moments to regroup during the day and wish them a wonderful school year in their new facility."
For more information on Ashley Furniture HomeStore locations, contacts and products, visit http://www.ashleyfurniturehomestore.com.
Ashley Furniture HomeStore, the number one furniture retailer in the United States, delivers quality, affordable furniture to customers at more than 395 independently owned and operated locations in the United States, Canada, Mexico, Puerto Rico and Japan. Ashley Furniture HomeStore is an exclusive provider of furniture from Ashley Furniture Industries, Inc., the largest furniture manufacturer in the United States. Customers can locate a local Ashley Furniture HomeStore licensee by visiting http://www.ashleyfurniturehomestore.com.
Media Contacts:
Kendra Maggert
Ashley Furniture HomeStore
608-323-6916
Terri Moore
Ashley Furniture HomeStore-Fultondale, AL
256-508-5736
# # #