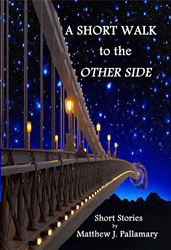 What or where are the boundaries between what we believe to be real and what we imagine?Matthew J. Pallamary
Los Angeles, CA (PRWEB) November 20, 2014
Author Matthew J. Pallamary's second short story collection, "A Short Walk to the Other Side" published as a tribute to his mentor Ray Bradbury, was an "Award-Winning Finalist in the "Fiction: Short Story" category of the 2014 USA Best Book Awards.
Jeffrey Keen, President and CEO of USA Book News, said this year's contest yielded over 2,000 entries from mainstream and independent publishers, including Simon & Schuster, Penguin, John Wiley & Sons, Houghton Mifflin Harcourt, Kensington Books, Harlequin, McGraw-Hill, Llewellyn, and hundreds of Independent Houses.
Pallamary's award-winning collection is available in e-book and print through Amazon and as an E-book through iTunes. It is the long awaited sequel to the author's first short story collection,"The Small Dark Room of the Soul", which Bradbury exclaimed, "Bravo! More!"
Barnaby Conrad, the late author of the best-selling novel "Matador", Steinbeck colleague, and founder of the Santa Barbara Writers Conference, grouped Pallamary with other horror greats in his book, "101 Best Scenes Ever Written", stating that readers "often gravitate to the metaphysical like Dean Koontz or Matthew Pallamary and sometimes the protean of Stephen King and …Edgar Allen Poe."
In the introduction, Pallamary asks: "Who are we really? What or where are the boundaries between what we believe to be real and what we imagine? Do we in fact know ourselves or our true nature? If we are not ourselves, then who or what are we? Where do we really live?"
Stories include a plastic surgeon who loses his "edge", a psychedelic trip that leads to unexpected dimensions, a gene-splicing experiment gone awry, and the extreme dedication of fitness enthusiasts to the newest weight loss drink, as well as many other boundary pushing themes.
According to Pallamary, "Most people stay entrenched in the cultural mainstream, believing that they could never think or act in such odd and terrifying ways, but we all have our shadow selves. How much does it take to send us over the edge? The truth is that it is a lot shorter walk to the other side than we like to think."
Pallamary's award winning historical novel Land Without Evil received rave reviews, and was adapted into a multimedia aerial extravaganza, directed by Sarah Agent Red Johnston and performed by acrobatic troupe, Sky Candy to sold out audiences. The making of the show, filmed as a PBS episode, garnered an EMMY nomination.
His memoir Spirit Matters, detailing his journeys from Boston's concrete jungle to the jungles of Peru, won San Diego Book Awards' Spiritual Book Category, and was an Award-Winning Finalist in the National Best Book Awards. It was recently released as an audio book, narrated by the author.
Originally from Dorchester Massachusetts, Pallamary has lived in San Diego for the past 35 years. For more about Pallamary, or to book him for speaking engagements or interviews visit http://www.mattpallamary.com.
Based in San Diego since 2000, Mystic Ink Publishing is an independent publisher of multiple award-winning books focusing on works of a spiritual, shamanic, new age, or transcendent themes as well as dramatic works of a visionary, supernatural, metaphysical, horror, fantasy, and science fiction nature.
Based in Santa Barbara, "Innovative Creative Content: What Makes You Different Connects Us All" is a Content Marketing Firm focusing on successful client branding and global marketing through targeted content and storytelling campaigns. For more information, visit their website at http://www.innovativecreative.co or contact them directly at email (at) innovativecreative (dot) co.