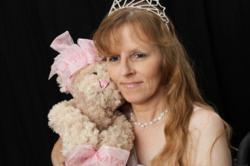 Ann truly embodies the spirit what an Ashworth graduate is...confident, well-rounded, and caring; all with a sense of purpose. She is an inspiration to all.
PEACHTREE CORNERS, Georgia (PRWEB) April 10, 2012
Ashworth College (http://www.ashworthcollege.edu), a leading online school, announced today that Ashworth alumnus and 2010 Ms. Wheelchair USA contestant, Anne Cox, Sacramento County, CA, has been presented with a certificate of recognition from the Distance Education and Training Council (DETC).
The DETC annually recognizes outstanding graduates who have achieved a level of celebrity and continue to make positive contributions to the community. Proud that her education helped give her the confidence needed to compete in a national pageant, Cox is among seven graduates from accredited DETC member institutions to receive this designation for 2012. These graduates will be formally recognized during the DETC 86th Annual Conference, April 15-17, in Maui, Hawaii.
Searching for an online school that was in compliance with the Americans with Disabilities Act led Cox to enroll at Ashworth, where she was assured she would not experience stigma or discrimination as she continued her studies in a comfortable and accessible environment. She graduated from of Ashworth College's Forensic Science program in 2011.
"As someone who demonstrates how her online education has made positive contributions to her personal success, Ann is a role model. We're proud to have her as an Ashworth graduate," said Rob Klapper, Ashworth College President and CEO.
Online education helped lead to once in a lifetime opportunities
Cox entered the 2010 Ms. Wheelchair USA pageant to challenge herself and to meet other women who were motivated, determined, and making positive contributions to society. The camaraderie and support obtained through her interactions with Ashworth students, administration and staff led to her decision to compete.
Representing the state of California, she received the Press Award for her "Road to Ohio" video.
"Ashworth College gave me the opportunity to learn without barriers—easily and readily accessible in a comfortable and self-paced environment," Cox said. "Going to college and participating in the pageant has given me a new sense of confidence and the awareness that, regardless of life's outcomes, I'm already a winner.
As a student, Ann was an active participant in Ashworth's online student community and served as President of the Ashworth College Habitat for Humanity Campus Chapter—Habitat's first student chapter at an online school.
Cox also has a wide range of personal interests including photography, gardening, drawing, interior design, and painting. Her American Brittany Spaniel is her pride and joy.
"Ann truly embodies the spirit what an Ashworth graduate is," said Dr. Leslie Gargiulo, Vice Ashworth College President of Education. "She's proven herself to be confident, well-rounded, and caring; all with a sense of purpose. She is an inspiration to all of us."
Ashworth College and DETC also recognized Kevin Kays, Fairdale, KY, as the 2012 Outstanding Graduate.
Delivering on a Promise
When a concept challenges the norm, it can be greeted with skepticism. In the case of online education, accountability and outcomes is a frequent topic of discussion among those interested in furthering their education.
Most often coming into question is whether or not higher education delivers on its promises, can more education be worth the extra effort and added expense, and how is online education the "best of all worlds."
"The Outstanding DETC Graduate of the Year program is living testimony of why the answer is a resounding "yes" to those who ask these questions," said Michael P. Lambert, DETC Executive Director.
In addition to online schools like Ashworth offering accredited online diplomas, certificates or degree programs for up to 50% less than traditional brick and mortar institutions, DETC proudly points out the achievements of the Graduate of the Year nominees who represent the thousands of Ashworth Graduates already having changed their lives for the better by persisting and getting advanced education online.
About DETC
The DETC is a voluntary, non-governmental, educational organization that operates a nationally recognized accrediting association, the DETC Accrediting Commission. Since its inception, DETC has worked to promote sound educational standards and ethical business practices within the distance education. The U.S. Department of Education supports DETC as the "nationally recognized accrediting agency" under terms of Public Law.
About Ashworth College and James Madison High School
Ashworth College, a leading online school, has built a tradition of excellence spanning 25 years, offering students worldwide more than 115 online college degrees, online certificate programs , career training and online high school diploma options that are affordable and fit the busy schedules of working adults. Ashworth also offers military education online as well as specialized programs for corporate partners and homeschoolers.
Headquartered in Peachtree Corners, GA, Ashworth is accredited by the Distance Education and Training Council (DETC). The Accrediting Commission of the DETC is listed by the U.S. Department of Education as a nationally recognized accrediting agency. James Madison High School is further accredited by the Southern Association of Colleges and Schools Council on Accreditation and School Improvement (SACS CASI). For more information, visit http://www.ashworthcollege.edu/.