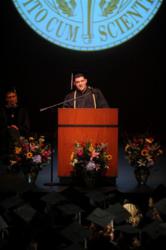 Ashworth College made it possible for me to get my degree with the flexibility of distance education and on my own terms.
PEACHTREE CORNERS, Georgia (PRWEB) August 13, 2012
Fairdale, KY resident Kevin D. Kays, a two time Ashworth College (http://www.ashworthcollege.edu/) graduate, was presented with the Ashworth College Alumnus of the Year award during the 2012 ceremony which was held August 4, 2012 at the Cobb Energy Centre in Atlanta, GA.
Kays, who has completed both an online undergraduate certificate and an online construction management associate degree program, was introduced by Chief Academic Officer Leslie Gargiulo who explained that his outstanding GPA, contributions to the Ashworth Community and many recommendations from Ashworth faculty and staff lead to his selection as the 2012 Alumnus of the Year. To commemorate the event, Ashworth President Rob Klapper presented Kays with a plaque.
"Ashworth College made it possible for me to get my degree with the flexibility of distance education and on my own terms," Kays announced to the record 1,400 plus graduates, guests, faculty, administration and staff in attendance. "[Ashworth College] helped me overcome any barriers to completing my education and meeting my goal."
Later, Kays joined Klapper, Dr. Gargiulo, James Madison High School Vice Principal John Riser, Ashworth College Faculty Dean Dr. Joi Barkley, and Keynote Speaker and US Speedskating Executive Director Mark Greenwald as they handed out diplomas and congratulated each of the graduates.
Graduates taking part in the ceremony traveled from 36 states, three Canadian Provinces and the Caribbean. They represented 97 college degrees, 129 career diplomas and 146 high school diplomas.
Employed by Dant Clayton Corporation, a manufacturer of bleacher and stadium systems, Kays and his wife have two children. A Habitat for Humanity volunteer in his home state of Kentucky, he also joined Ashworth faculty and staff for a Habitat project the day before the ceremony.
"Kevin is a great example of how an online education easily becomes part of everyday life, successfully balancing family, career and studies," said Rob Klapper, Ashworth College President and CEO. "We're proud to have him as an Ashworth graduate."
Previous Ashworth College Alumnus of the Year honorees include television host Didiayer Snyder (2009) and author Falan Taylor (2011).
About Ashworth College
Celebrating 25 years of Educating Minds and Changing Lives, leading online school Ashworth College has built a tradition of excellence by offering students worldwide an extensive range of online college degrees, online certificate programs, career training and online high school diploma options that are affordable and fit the busy schedules of working adults. Ashworth offers military education as well as specialized programs for corporate partners and homeschoolers.
Headquartered in Peachtree Corners, GA, Ashworth is accredited by the Distance Education and Training Council (DETC). The Accrediting Commission of the DETC is listed by the U.S. Department of Education as a nationally recognized accrediting agency. Ashworth is parent to James Madison High School which is accredited regionally by the Southern Association of Colleges and Schools Council on Accreditation and School Improvement (SACS CASI), an accreditation division of AdvancED and further provides career training and vocational programs in the fields of health, business, technology, education, and skilled trades through sister schools PCDI Canada, New York Institute of Photography and Sheffield School.