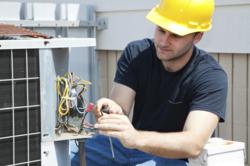 Environmental issues are far reaching and diverse and impact nearly all skilled trades professions...Ashworth College's HVAC group is ideal for discussions which benefit both students and non-students alike."
Peachtree Corners, Georgia (PRWEB) April 24, 2012
Within the burgeoning green movement, there is constant demand for current, reliable and trustworthy information for those working in professions impacted by environmental concerns. It's one of the reasons why Ashworth College (http://www.ashworthcollege.edu/), a leading online school, introduced a resource for those interested in issues pertaining to the heating, ventilation and air conditioning (HVAC) industry.
Ashworth recently created its HVAC Group within its online Community as a resource as a resource for heating and air conditioning tradesmen and professionals as well as those in related skilled trade professions, including electrician, construction management, and property management.
Ashworth's nationally accredited online HVAC training program is among its most popular programs and the HVAC Discussion Group serves nearly 3,000 members (as of March 2012). The group is part of the larger 100,000 plus online Ashworth Community.
"Environmental issues are far reaching and diverse, ranging from conservation, public policy and personal behavior and impact nearly all skilled trades professions is one way or another," said Amy Bernard, Director of Interactive Marketing for Ashworth College. "A report from the New York State Department of Labor recently showed Heating/Air Conditioning Mechanics & Installers topping the list of common green occupations, proving that there is a need for dialogue within the trades. Ashworth Community's HVAC group is ideal for these types of discussions which can benefit both students and non-students alike."
Ashworth has been educating working adults for the past 25 years. With the launch of the HVAC Group, Ashworth now provides a state-of-the-art online resource that shares professional content with non-students, as well as social networking opportunities for existing students. Group members and visitors will find:

A network of motivated and engaged students willing to encourage others by sharing personal, professional and educational insights and successes. The latest state licensing requirements is among topics that are popular among members.
Online study groups comprised of current Ashworth students enrolled in one of its educational programs. Members offer assistance with lessons and provide moral support to group members.
Insights from students. Prospective students will benefit by learning from current students on what it is like to be an Ashworth student and how to be successful as an online student.
According to the U.S. Bureau of Labor Statistics the employment rate for heating, air-conditioning, and refrigeration mechanics and installers is projected to increase by 28 percent during the 2008-18 decade.
"I have been working in the HVAC field for about 10 years and decided I need some more formal training so I can work more on residential and commercial instead of the industrial side. Looking forward to exchanging information with others." Posted by Paul in Iowa.
About Ashworth College
Ashworth College, a leading online school, has built a tradition of excellence spanning 25 years, offering students worldwide more than 115 online college degrees, online certificate programs and online high school diploma options that are affordable and fit the busy schedules of working adults. Ashworth also offers military education online as well as specialized programs for corporate partners and homeschoolers.
Headquartered in Peachtree Corners, GA, Ashworth is accredited by the Distance Education and Training Council (DETC). The Accrediting Commission of the DETC is listed by the U.S. Department of Education as a nationally recognized accrediting agency. James Madison High School is further accredited by the Southern Association of Colleges and Schools Council on Accreditation and School Improvement (SACS CASI). For more information, visit http://www.ashworthcollege.edu/.