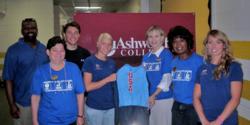 Athletes are part of a growing segment of Ashworth students who appreciate online learning as a way to successfully earn a college degree while pursuing other interests.
PEACHTREE CORNERS, Georgia (PRWEB) June 15, 2012
Members of the US Speedskating team, who are also students with Ashworth College (http://www.ashworthcollege.edu/), took time from of their rigorous training schedule to join the online school at Ft. Benning's Sayers Memorial Library to help kick off the 2012 Summer Reading program. Ashworth is an official sponsor of Fort Benning's Directorate of Family and Morale, Welfare and Recreation, which organizes the annual program.
Trevor Marsicano and Jilleane Rookard, both members of the 2010 U.S. Olympic Team, and Emily Scott, who recently took home a silver medal the 2012 ISU World Short Track Championships are Ashworth students. Olympic silver medalist Marsicano is pursuing an online Bachelor's Degree in General Studies, while Rookard pursues an Online Bachelor's Degree in Marketing. Scott is enrolled in the online Business Management Certificate Program.
In front of an audience of nearly 200 children and parents, the athletes each shared excerpts from a personal favorite children's story. Following the program, the skaters took time to sign autographs and pose for pictures.
Library representative Camille Walkinshaw was presented with storybooks that had been autographed by the athletes as well as an autographed competition skin (uniform) for display in the Library.
"Ashworth continues to demonstrate its commit as contributing members of the Ft. Benning community and the Sayers Memorial Library," said Rodney Butler, U.S. Army First Sergeant, Retired and Ashworth College Military Education Coordinator on behalf of the accredited online school.
"The athletes who joined us today are part of a growing segment of Ashworth students who appreciate online learning as a way to successfully earn a college degree while pursuing other interests," Butler added. "Like members of the military, they are constantly mobile and need a way to pursue a college degree in a way that fits their lifestyle and Ashworth delivers."
About US Speedskating
US Speedskating is a non-profit organization recognized by the United States Olympic Committee and the International Skating Union as the governing body for the sport of speedskating in the United States. Its mission is to be one of the premier speedskating organizations in the world through excellence in leadership, development and performance. To date, US Speedskating has won 85 Olympic medals, making it the most successful winter sport in the U.S. In addition to its elite programs, US Speedskating is responsible for the grassroots development of speedskating. For more information, follow US Speedskating on Facebook, Twitter and visit http://www.usspeedskating.org
About Ashworth College
Celebrating 25 years of Educating Minds and Changing Lives, leading online school Ashworth College has built a tradition of excellence by offering students worldwide an extensive range of online college degrees,online certificate programs, career training and online high school diploma options that are affordable and fit the busy schedules of working adults. Ashworth offers military education as well as specialized programs for corporate partners and homeschoolers.
Headquartered in Peachtree Corners, GA, Ashworth is accredited by the Distance Education and Training Council (DETC). The Accrediting Commission of the DETC is listed by the U.S. Department of Education as a nationally recognized accrediting agency. Ashworth is parent to James Madison High School which is accredited regionally by the Southern Association of Colleges and Schools Council on Accreditation and School Improvement (SACS CASI), an accreditation division of AdvancED and further provides career training and vocational programs in the fields of health, business, technology, education, and skilled trades through sister schools PCDI Canada, New York Institute of Photography and Sheffield School.