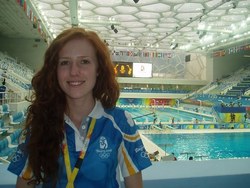 This was really well received by the multicultural audience
Denver, CO (PRWEB) October 15, 2008
Universities in Australia and New Zealand, like many educational institutions around the globe, aren't ready to place their 2008 Olympic achievements in the trophy case just yet.
Before attention focuses completely on the London 2012 games, these universities are taking stock of their accomplishments and connections to the games.
While Olympic athletes come from all walks of life, significant portions are university students and alumni who are either in the study abroad Asia programs throughout their training or defer academic pursuits until the conclusion of the games.
Many Aussie and Kiwi student Olympians, in fact, honed their world-class athletic skills at their campus pools, gyms and tracks, sometimes under the guidance of university coaches and mentors.
The campus Olympic connections of Australia, which ranked 6th in the world with 46 medals overall, and New Zealand, which ranked 24th with nine medals overall, also go beyond the athletes to reveal important behind-the-scenes players.
These individuals included lecturers-turned-coaches, scholarly experts in subjects related to sports, training and China, and student volunteers who got involved in numerous ways.
At the University of Wollongong in New South Wales, for example, Chinese residents of the International House kicked off the Olympics frenzy with a presentation highlighting their country's culture and architecture. They also played a traditional Chinese game and handed out prizes.
"This was really well received by the multicultural audience," said Dr. Lindsay Oades, student residence manager of the International House, "and a great opportunity to hear from the Chinese residents showcasing their own nation and culture regarding a truly international event."
During the two weeks of competition that followed, the Chinese students from the study aboard China program updated their university community on the latest issues and events surrounding the Olympic Games.
"This provided a nice point of difference from the usually fanatic Australian interest in sport," Oades said.
Students and faculty at other campuses also gathered at designated locations to soak in the spectacle of what some observers say was the most awe-inspiring and well-managed Olympics in history.
At Macquarie University in New South Wales, televisions across the campus broadcast the games and students and faculty took special interest in watching Grant Brits, a commerce student who won bronze in the 4x200-meter freestyle relay.
New Zealand's Massey University, a multi-campus entity encompassing Auckland, Palmerston North and Wellington, accounted for more than 10% of athletes on the 2008 New Zealand Olympic team. Of the 185 athletes who represented New Zealand in hockey, swimming, athletics, rowing, cycling, kayak and shooting events, 23 were current or recent Massey students.
The Massey Olympians weren't able in the 2008 games to secure any medals, but their involvement continues to place their home institution among leading sports universities.
Monash University in Melbourne, Australia, got into the spirit of the games with big screens set up in all campus centers so students and staff could watch and cheer the various athletes representing countries around the world, said James Bennett, Monash's education abroad manager.
Monash counted a number of its China study abroad program students among medal winners. In addition, three of the five senior doctors for the Australian Olympic team are alumni of the university.
"We were gripped by the amazing performances of athletes," Bennett said, "and the wonderful spectacle of the games."
The University of Newcastle in New South Wales was one of ten select universities across the world chosen by the Beijing Organizing Committee of the Olympic Games to provide "flash quote" reporters who gathered information from competitors and provided it quickly and accurately to journalists. The university responded by sending 40 trained communications students to participate in the event. (See related sidebar at top.)
While by no means a comprehensive list, here are a few notable Beijing Olympians with ties to universities in Australia and New Zealand:

Gemma Beadsworth, a former University of Western Australia student, was part of Australia's Bronze-medal winning water polo team.
Travis Brooks, Monash alumni, was part of the Kookaburras men's hockey team, which won bronze.
Suzie Fraser of the University of Queensland was on the bronze-medal winning women's water polo team.
Grant Hackett, captain of the Australian Swim Team at Beijing and a student at Bond University in Queensland, brought home silver in the 1500 meter freestyle and bronze in the 4x200-meter freestyle relay.
Emma Moffatt, a University of Queensland student, earned a bronze medal in the women's triathlon.
Patrick Murphy, Monash alumni, took bronze in 4x100-meter freestyle relay and the 4x200-meter freestyle relay.
Brenton Rickard, Monash alumni, won silver in the 200-meter breaststroke and the 4x100-meter medley relay.
Grant Schubert and Fergus Kavanagh, University of Western Australia students, were part of Australia's bronze medal-winning hockey team.
Melanie Schlanger, a swimmer from the University of Queensland, won gold as a member of the Australian women's 4x200-meter freestyle relay team.
Eamon Sullivan, who put his studies at Edith Cowan University on hold to focus on his swimming training, won silver in the 100-meter freestyle and 4x100-meter medley relay and bronze in the 4x100-meter freestyle relay.
Australian and New Zealand universities also yielded many coaches, support staffers and event experts. They included:

Dr. Simeon Cairns, an AUT lecturer in exercise physiology and an expert in exercise performance and racquet sports, served as coach for the New Zealand Olympic table tennis team.
Rob Creasy, of Massey University's Institute of Food, Nutrition and Human Health in Auckland, served as exercise physiologist for the triathlon squad.
Alison Fitch, a Massey University master's student in business management and former Olympic swimmer, was a volunteer administrator for the New Zealand Olympic team.
Dr. Andrew Foskett of Massey University served as a sport scientist for the men's football squad.
Dr. Andrew Kilding, exercise physiologist and director of the Sport Performance Centre at AUT University in Auckland, New Zealand, and Dr. Jim Cotter from the University of Otago in Dunedin, New Zealand, studied the heat, humidity and pollution of Beijing in preparation for the 2008 games. The data were used to formulate coping strategies for the athletes, such as taking correct medication, minimizing exposure during travel and best times of day to train.
Duncan Reid, an AUT lecturer and national speaker on physiotherapy and rehabilitation, served as chief physiotherapist for the New Zealand Olympic team for the past four games.
Grant Stoelwinder, a business graduate of Edith Cowan University in Perth, Australia, traveled to Beijing to coach Australia's all-star swim team.
David Smith, a broadcasting lecturer for Edith Cowan University, commentated on cycling, football and handball matches for TV New Zealand.
Sources: Individual university news submissions to and the official web site of the 2008 Beijing Olympic Games.
# # #