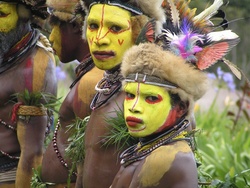 Many people consider Asia a winter destination, when in fact Japan, China, Bhutan, Tibet, Papua New Guinea and Indonesia are superb from March to May
BOULDER, Colo. (PRWEB) January 23, 2008
"Many people consider Asia a winter destination, when in fact Japan, China, Bhutan, Tibet, Papua New Guinea and Indonesia are superb from March to May," says Marilyn Downing-Staff, CEO and Founder of Asia Transpacific Journeys, which has specialized in Asia and Pacific Rim destinations for 21 years. "The climate is ideal in these destinations during spring. It's a perfect time to explore some of the world's most intriguing cultures."
The company designs both individually tailored Custom Journeys and signature Small Group Trips to Asia destinations, and tend to incorporate extraordinary elements and unusual features.
Their Bhutan--Inside the Dragon Kingdom Small Group Trip "exemplifies the leave no stone unturned philosophy when it comes to exploring a country," says Downing-Staff. Only 20 percent of visitors to Bhutan experience central Bhutan as her travelers do, and the journey features a remote spring festival. The 11-day journey to Bhutan departs April 15, 2008 and costs $4,595 (per person double).
Papua New Guinea incorporates the utterly remote, supremely authentic Tumbuna Sing-Sing, where local tribes gather in the Highlands for an outlandish, multi-day competition of tribal rites, song and dance, while sporting wildly ornate traditional costumes. This 15-day adventure is a classic of the travel genre. Price is $7,395 and departs May 18, 2008.
Their Quintessential Japan Small Group Trip includes an untouristed local festival amidst spectacular cherry blossoms, an overnight in a ryokan, with traditional hot spring baths and Japanese banquet, a special performance of sacred the Kagura dance in the inner chamber of a Shinto shrine, Kabuki theatre and geisha dance performances, private tea ceremony, a gondola ride to view Mt. Fuji, the exclusive Saihoji Moss Garden, and in-depth explorations of Tokyo and Kyoto. The 13-day journey departs April 8 and costs $7,895. See http://www.asiatranspacific.com/japantrip for complete details.
Small Group Trips depart with a maximum of 18 participants. Price includes highest end accommodations, nearly all meals, transfers, visa fees, tips, entrance fees, medical and emergency insurance, a comprehensive pre-departure packet and more. Custom Journeys may also be arranged to all destinations around an individual's timeframe and interests.
Asia Transpacific Journeys has been crafting private Custom Journeys and Small Group Trips to the Asia/Pacific region since 1987. Their regional expertise makes them the operator of choice for dozens of America's most notable universities and museums. On average the company's destination specialists have nearly a decade of experience arranging the best possible programs for travelers. Some trips also support global conservation and cultural preservation. Asia Transpacific Journeys own non-profit Asia Transpacific Foundation, established in 1998, works with rural Asian communities to provide clean drinking water through locally made ceramic water filters.
For more information please visit http://www.AsiaTranspacific.com pipe 800-642-2742
About Asia Transpacific Journeys
Asia Transpacific Journeys is an award-winning, Boulder, Colorado-based tour operator specializing in Custom Journeys and Small Group Trips to Asia and the Pacific region since 1987. Outstanding service, long-standing connections in Asia and deeply insightful cultural interpretation make them the operator of choice for discerning individuals, their families and friends. Asia Transpacific Journeys is the recipient of three "Top Travel Specialists" awards for 2007 from Conde Nast Traveler magazine. In November 2007 Asia Transpacific Journeys was also honored as a "World's Best Tour Operator" by National Geographic Adventure. For more information, visit http://www.asiatranspacific.com.