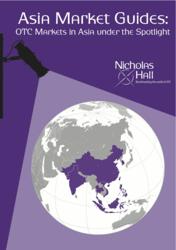 India, China and Indonesia illustrated highest percentage sales increase between 2011 and 2012.
(PRWEB UK) 7 May 2013
China and India have been under the spotlight over the past few years, with economies growing at a rapid rate. 'Asia Market Guides' is the latest publication from the OTC specialists, Nicholas Hall & Company, which concentrates on opportunities and threats in 10 Asian countries. The focus on these OTC markets comes as companies look to the East for expansion, as Asia continues to be the largest contributor to OTC sales globally, accounting for one third of total OTC market sales, according to DB6.
Asia-Pacific OTC sales saw a mixed performance with declines in Japan and S Korea, offset by strong growth in China (7.4%) and India (12.7%). Nicholas Hall, Chairman of Nicholas Hall & Company, presented during the Nicholas Hall's INSIGHT Annual OTC Conference in April 2013, highlighting:
" We have good growth in the Emerging Markets, led by Russia with nearly 20% growth, followed by Brazil (14.1%)…in the Asian OTC market, India, China and Indonesia illustrated highest percentage sales increase between 2011 and 2012."
Undoubtedly, there are barriers to overcome for foreign players but this market also presents the best opportunities, which are detailed in 'Asia Market Guides'. This invaluable resource is for anyone who wants to know the ins & outs of key areas in OTC, from regulatory developments and consumer preferences to OTC category insights and brand performances.
About Nicholas Hall & Company
Since 1978 Nicholas Hall & Company has offered comprehensive OTC marketing and business solutions. Specialising in OTC, our consultants and market analysts have many years of experience while our international network of contacts means we can offer strategic advice, data & analysis and competitive intelligence on a global scale.
Our reports draw on the in-house expertise of our specialist analysts and researchers, on the-ground knowledge from our Network Partners, and Nicholas Hall's unique insights, plus the latest sales data from our DB6 global OTC database. Each title provides in-depth analysis, identifies major trends and developments, highlights consumer preferences and forecasts future trends.
Media Details:
Contact: Valerie Tsang, Group Director of Marketing & Sales
E: info(at)NicholasHall(dot)com
W: http://www.NicholasHall.com