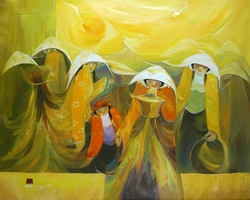 "Their (the artists) situation have been our driving force to come up with something that will help Asian aspiring artists step up to a higher level"
(PRWEB) April 27, 2011
Conceptualized as college students and launched by two art lovers Shannon and Cai Lin, Artyii.com was born 9 months ago in Singapore out of a need to provide emerging Asian artists with a suitable avenue to gain exposure quickly with minimal effort and cost.
"Their (the artists) situation have been our driving force to come up with something that will help Asian aspiring artists step up to a higher level," mentions co-founder, Shannon.
"We're heart-warmed that several of our artists have called us thanking us for the exposure because they've been picked up by galleries for formal representation after posting their profiles on Artyii," he continues.
As to-date, Artyii.com or simply known as Artyii to both art amateurs and masters, has over a thousand water-marked art pieces from Pakistan to Vietnam, on their site. The subject matter of the art pieces ranges from figurative to still life to impressionistic to traditional pieces done on silk, which can only be found in Asia.
Artyii supports a Facebook page (http://www.facebook.com/bestofasianart) in their effort to reach out to both artists and younger art lovers in the region. It has a lively community of over 14,000 members posting their artwork daily.
Supported by private investors who are art lovers themselves, Artyii's plan for the near term would be to continually iterate its platform to best cater to the needs of both artists and art lover while inviting selected artists onboard.
"It has to be easily understood by Asian artists, some of them who are still not aware of the opportunities that the internet can offer. They don't know that putting their paintings for sale is as simple as filling in a quick form online." mentions Olivia, Artyii's creative designer
"Eventually, we want to be the place to come to if you're looking for gallery grade, original Asian art as an individual buyer, gallery or business owner, be it by the piece or in a limited quantity" mentions co-founder Cai Lin.
This budding journalist cum artist definitely hopes that their vision becomes a reality soon!
# # #