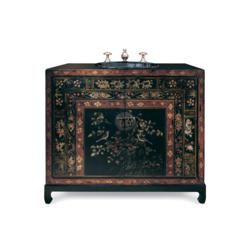 As one of the most distinctive fixtures in any bathroom, the right Asian style vanity can give the whole bathroom an exotic look, even if the other choices aren't quote so bold.
(PRWEB) July 25, 2012
HomeThangs.com – the Home Improvement Super Store has made their goal to deliver the right product to the consumer, with that in mind, shopping and home design tips, as well as special product selections are being introduced.
HomeThangs has introduced a selection of Asian-style bathroom vanities for a relaxing Zen-inspired bathroom, as well as presented tips on how to pick the right one.
1. Pagoda-style bathroom vanities are one of the easiest ways to set the mood for an Asian style bathroom. The shape is utterly distinctive and fairly universally familiar, and will immediately train the eye how to interpret other elements of the bathroom. VAN075-T Ming Modern Vanity by Hardware Resources for example - the flared upper edge subtly echoes the wood construction and upturned roofs of pagoda towers, and the beveled, frosted glass paneling on the doors mimics their windows and doorways. As well, the glass door inserts are strongly evocative of Japanese rice paper shades.
2. The WA3012 Dark Walnut Asian Vanity by Legion Furniture is quite similar, again drawing on the rice paper style of repeating lighter squares divided by dark wood borders. But rather than a strictly architectural influence, the casually curved, overlapping edges of the vanity and especially those of the matching Mirror are reminiscent of elegant brush painted Chinese or Japanese character paintings.
3. Even just a little bit of curve on the legs is enough to add a touch of the exotic. As far as Asian vanities go, the Asian Inspired Single Vanity WLF6015-G by Legion Furniture is relatively neutral. No rice-paper style face, no overt flair. But the little flip of the feet and the dark, lacquered wood finish are just different looking enough to draw the eye and make it a good pair for an Asian styled bathroom.
4. Simple HYP-0711-26 Asian Vanity by Silkroad Exclusive, for instance, is otherwise utterly minimal, but the curved sides again give the subtle impression of brushstrokes. A little less bend to the edges and this vanity wouldn't be much to look at, but that simple bow and the flared feet, coupled with the dark espresso finish make it just that little bit eye catching, maybe not enough to scream "Asian bathroom" on its own, but definitely a great way to set the scene.
5. Rice paper styled glass-and-wood doors and drawers are really the most common features of Asian vanities of any shape or size. Parkdale PD3621D vanity by Sagehill Designs has wood-frames-over-wood-paneling design, which is a little more subtle, but still conveys that Asian look to some degree.
6. Rice paper patterning is probably so prevalent in Asian vanities because, in the Western world, it's one of the most common and widely recognized Asian symbols. From privacy screens to paper lanterns to pagoda style structures themselves, the fragile repeating frames speak generally of "the East" – making it an easy and fairly universal way to set the mood for an oriental bathroom. The Traditional Asian Vanity WLF6017 from Legion for example, does not have anything overtly eastern about it, other than the lantern-style windows on the doors, but the style is just enough to set the stage for a more elaborate Asian style bathroom design.
7. Asian inspired decor pairs well with a more modern design. Like modern decor, the Asian aesthetic is typically fairly minimal and derives its distinct look primarily from simple, repeating lines. A combination of the two gives a stunning look. Modern Asian Vanity WA3138 by Legion Furniture for example, has the characteristic rice paper doors and natural wood finish, but trims down the silhouette of the vanity significantly, making it quite shallow and visually giving the impression of being very tall. With some ultra modern, minimal-yet-shiny door and drawer pulls and stainless steel feet added, this Asian vanity looks a lot more sleek than antique.
8. For a smaller space, compact designs are available. For example, Bambu vanity by Xylem is compact, sleek, and modern, and it uses another material commonly associated with the east – bamboo – both in solid wood veneers and for an eye-catching Asian inspired accent.
9. Material is another thing that can turn just a vanity into something that would work well into an Asian inspired bathroom. The Hyp-0727-67 Two-Tone Asian Vanity by Silkroad, for example, has an Eastern look and feel mostly because of the wood tones and finish. The golden wood paneling is reminiscent of fine Chinese antiques. The bold red cherry body and golden panels make for a very Chinese coloration, and when paired with the same subtly curved legs, it gives a very strong impression of oriental decor.
10. Vanities with floating counter tops, such as Modular Asian Vanity Hyp-0808n by Silkroad, also leave a strong Asian impression. Once again, the modern design coupled with rich, decadent hardwood is exotic, and is a prime platform for an oriental design.
The slightly exotic, slightly unexpected, and slightly unconventional style of an Asian inspired bathroom will help signal the brain that it's time to relax, and the bold but subtle cues of Asian vanities are the perfect launching point.
HomeThangs.com is not only a home improvement superstore, it also provides expert design tips and a comprehensive shopping guide, taking the ideas from professional interior designers, and offering tips to the consumers on how to pick the products to best suit their needs.