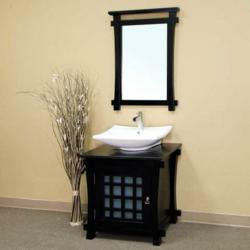 One of the most prevalent Asian inspired bathroom vanities is the pagoda style vanity. Many manufacturers offer variations on this design.
(PRWEB) April 25, 2013
HomeThangs.com – the Online Home Improvement Store has made their goal to deliver the right product to the consumer. With that in mind, shopping and home design tips, as well as special product selections are being introduced.
Modern bathroom design is in in a big way. In a magazine spread or a photo shoot, "modern" often means chrome and glass and concrete – industrial, untouchable, and often a little grey. But it's not the Calvin Klein model version of modern design that's hitting it big with homeowners: it's a more natural style, made up of earth tones and minimalist lines to create a relaxed, zen-like spa vibe. Asian inspired bathrooms are a great example of this working well, combining a connectedness with nature with simple, minimal design. For those who love the look, HomeThangs introduced a quick guide on how to pick and where to find the right Asian inspired bathroom vanities.
Asian inspired bathrooms and bathroom vanities have almost nothing to do with anything one would find in an actual bathroom in any part of Asia. Japanese bathing rituals, for example, result in a very different kind of bathroom design from what we have here in the Western world. Rather, it's a design inspired more generally by Asian architecture and design (and, of course the Western concept of the 'orient'). That said, one of the most prevalent Asian inspired bathroom vanities is the pagoda style vanity. Many manufacturers offer variations on this design, with a rice paper screen-style wood and frosted glass door and brushstroke-style edges that overlap to evoke a Chinese or Japanese character. These are great for a zen-style bathroom because they immediately evoke a sense of eastern simplicity and set a tone for the rest of your bathroom design.
HomeThangs suggests that Asian inspired bathroom vanities don't have to be quite so stereotypically "oriental" to help build a soothing, zen-like bathroom, also showing examples and offering ideas for such design.
Chinese architecture and furniture are known for their detailed woodwork, often with elaborate cutouts, carving, and elegant raised surfaces in repeating patterns. Adding texture is another way to add visual interest while maintaining a minimalist style.
There are also a few simple things to be learned from the Feng Shui practice of organizing space to promote positive energy. Especially in a modern Asian inspired bathroom, it is important to pay attention to the little things one would put in a bathroom as much as the larger furnishings. In terms of Feng Shui, that means adding mirrors, fresh cut or living plants, a water feature, and focusing on roundness and curves rather than sharp, hard angles.
Even those who don't have much of an eye for design aren't entirely out of luck. An Asian inspired bathroom is mostly about combining simplicity with natural colors and materials. If all else fails, incorporating bamboo wood – an iconic material of the East – into the bathroom (and bathroom vanity) is a great way to start building up that Asian flair. Bamboo has become a very popular building material in eco-friendly bathroom design as it's fast growing, strong, water resistant, and very durable. In most iterations, it offers a light straw or honey color that's a great way to bring warmth and light into a relaxing modern bathroom.
Among the recommended bathroom vanity brands are: Bellaterra Home, Xylem, Virtu USA and more .
To get more ideas and tips on the matter, read the full version of the 'Asian Inspired Bathroom Vanities for a Zen like Modern Bathroom'.
HomeThangs.com is not only a home improvement superstore, it also provides expert design tips and a comprehensive shopping guide, taking the ideas from professional interior designers, and offering tips to the consumers on how to pick the products to best suit their needs.