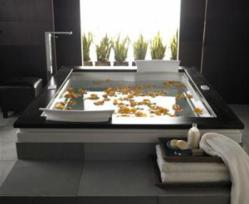 Pairing the simple lines and geometric designs of modern decor with a subtle Asian influence can dramatically change the vibe for a much warmer, more inviting space.
(PRWEB) August 15, 2012
HomeThangs.com – the Home Improvement Super Store has made their goal to deliver the right product to the consumer, with that in mind, shopping and home design tips, as well as special product selections are being introduced.
Modern styled bathrooms can be chronically chilly. For all their sleek, minimal chic and elegance, the bare-bones style and often industrial palette can end up feeling cold and inhospitable. But pairing the simple lines and geometric designs of modern decor with a subtle Asian influence can dramatically change the vibe for a much warmer, more inviting space. Trading out concrete, steel, and glass monochromes for wood, natural neutrals, and inviting pops of red and gold will immediately turn the bathroom from a sterile space into an exotic getaway.
HomeThangs.com introduced a tip sheet on how to implement an Asian influenced design in a modern bathroom.
1. In any themed bathroom, the vanity is going to be the anchor for the style. In an Asian themed bathroom, many conventional modern vanities will work, especially wood ones like Modesta from Sagehill for example, but for a more distinct style, something more obviously Asian-inspired, like Ming Modern Vanity by Lyn Design will work even better. The simple square-and-rectangle design is reminiscent of architecture from throughout Asia – the contrast between the dark wood and frosted glass is reminiscent of rice paper screens, and the subtle accents along the top edge reference the pagoda style. Paired with other Asian elements, such vanity will immediately suggest the exotic, while still adhering to the minimalist principles of modern design.
2. For something a little lusher, a vanity with an antique look and feel, like the Chinese-inspired Apothecary by Sagehill will be a good fit. With a hand rubbed ebony finish and antique style handles, this vanity is reminiscent of antique Chinese medicine cabinets. Though it's a single large cabinet rather than the traditional small drawers, the exterior design is striking and otherwise authentic, and makes an excellent base for an Asian theme.
3. For a more traditionally Japanese style, and the most surefire way to chase the chill out of the modern decor, a light, natural wood vanity, like L'Expression by Porcher is recommended, especially when wood is incorporated in a similar finish throughout the room, say, with shades, frames, and flooring. Live bamboo plants and smooth, dark river stones will infuse the room with a natural calm.
4. Asian style bathroom decor shouldn't just be limited to vanities. In fact, the act of bathing is supremely important in Japanese culture, and is about much more than just getting clean. The ancient religion of Shinto, native to the islands of Japan, emphasizes the spiritual (as well as bodily) cleansing properties of water, which meant that bathing was practiced ritually and often in public.
Now, while public bathing isn't as common as it once was, the practice of keeping potentially communal water clean has stuck around in Japan's bathing rituals, and their bathrooms are designed with this in mind. Put simply, they wash first (wet, soap, scrub, rinse) and bathe (or, really, soak in very hot water) second. That means truly Japanese style bathroom has, at most, a shower with an open layout, hand shower, and usually a stool to sit on, and the least, a stool, a bucket for hot water, and a scrubber. Then, for maximum relaxation, they have very deep, narrow, round tubs like the Japanese Soaking Tub from Barclay that allow one to sit and soak comfortably up to the shoulders or neck in 110+ degree water, which can help improve circulation, breathing, and heart health, and can help relax tense muscles and relieve achy joints.
5. For a truly authentic Japanese style bathroom, a Japanese style inspired toilet is a must. Small, technology-packed, high efficiency toilets like the Neorest by TOTO for instance, might not look like much, and certainly don't take up much room, but they're packed full of bells and whistles. From a seat warmer and self-lifting lid to a built in adjustable bidet and warm-air dryer and even an ipod dock on some models, these hybrid potties will pamper men and women alike, and make the perfect finishing touch for the modern, Asian themed bathroom.
HomeThangs.com is not only a home improvement superstore, it also provides expert design tips and a comprehensive shopping guide, taking the ideas from professional interior designers, and offering tips to the consumers on how to pick the products to best suit their needs.