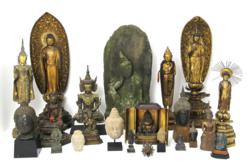 Many of the pieces have been on display in museums and will soon be available on eBay with a starting bid of only 99 cents
Eastern Shore, DE (PRWEB) April 30, 2013
Estate Auctions Inc. is pleased to announce the upcoming auctions featuring the Ryder family pan-Asian Buddhist art collection. It was acquired during the 1980's and 1990's with the primary focus on research. This impressive portfolio represents sculptural work from every country and every major period of Buddhist art. The Ryder family worked with major auction houses around the country in amassing this collection and until recently, many pieces were on loan to various Midwest museums.
"We're honored that we can offer this collection of rare and very valuable Buddhist art. The variety and uniqueness of this collection is unlike anything we have sold. Each piece has been carefully researched and authenticated. Many of the pieces have been on display in museums and will soon be available on eBay with a starting bid of only 99 cents. Many collectors who have traditionally worked with live auction houses are beginning to use eBay to build their portfolios and as a result we continue to see our realized prices climb", says Norb Novocin, owner of Estate Auctions, Inc.
The Estate Auctions Inc. continues to provide quality Asian items to a very loyal customer base which reaches across the globe. The overseas, specifically Asian, clientele has increased by over 1000% in the past year. Serving these clients diligently and maintaining a 100% feedback has been the most influential factor for consignors as they continue to contract with their firm.
To learn more about the Novocins and Estate Auctions, Inc. visit them on eBay, user ID EstateAuctionsInc or follow them on Twitter @KnowsEbay. For consigning information please call 1-800-573-3508. You can find their new book Getting Sold On Ebay, The Treasure Hunter's Guide To Making Money at http://GettingSoldOnEbay.com or Amazon.com.
You can find them on Facebook also.