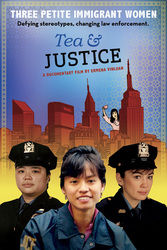 Last year, over 10,000 attended, celebrating films made by women - for everyone.
Beverly Hills, CA (PRWEB) October 9, 2008
Tea & Justice, a documentary about three petite immigrant Asian women defying stereotypes in the New York Police Department (NYPD) will screen at La Femme Film Festival on Friday, October 17, 2008, 10:00 am at the Fine Arts Theatre, 8556 Wilshire Boulevard, Beverly Hills, CA. Director/Producer Ermena Vinluan will be present.
"The festival screens films for a world audience," said Leslie Lapage, Founder & Executive Director of La Femme. "Last year, over 10,000 attended, celebrating films made by women - for everyone."
Tea & Justice is about three petite Asian immigrant women who help change the face of the NYPD - and its soul. Vinluan made the film because she was intrigued by the image of Asian women in such a non-traditional career. The filmmaker also explores her activist ideas and mixed feelings about cops, while honoring the challenges the women embraced and reforms they accomplished.
Hollywood Reporter called the film "thoughtful and provocative." Tea & Justice was described as "…a heartfelt documentary…delightful" (Rocky Chin, Esq., NY State Civil Rights Commission); and "…bold, sensitive, passionate, analytical and iconoclastic," (Prof. Estella Habal, Asian Studies at San Jose State University).
About the Film:
Agnes Chan, a 20-year-old college student and Chinatown garment factory worker became NYPD's first Asian female officer in 1980. Chan was committed to creating a bridge between the police and the poorly-served Asian community. Her Police Academy graduation was memorialized by a photo in the New York Daily News. A native of Hong Kong, many of Chan's colleagues and superiors assumed she was under-qualified, hired merely to fulfill NYPD hiring quotas for women and minorities. They were amazed to learn she had scored 98% on her entrance exam. Chan was a co-founder of the Asian Jade Society, the advocacy and support organization of NYPD Asian officers.
Christine Leung was born in Hong Kong. Both her parents were restaurant workers as well strict traditionalists who fought her assimilation as an American teenager growing up in Queens. Leung was a student at NYU and a Wall Street secretary before becoming a cop. Early in her career, she was shocked when a middle-age Caucasian woman told her, "I'm paying taxes for a little shit like you!" Leung worked in narcotics, community affairs and on the elite Major Case Squad on kidnappings. She also led NYPD sensitivity training classes on race and culture.
Trish Ormsby was born in Japan to a Japanese mother and Irish-American father. After her father's death, her mother remarried a Japanese man and Trish was raised in Brooklyn in a traditional household. She was a Wall Street secretary but quit in disgust when ordered to serve tea to her male Japanese bosses. Ormsby loved Cagney and Lacey, the 1980s hit TV show about NYPD women detectives and was inspired by her Irish uncle, a police officer. Ormsby is 5'2". Her mother argued, "You're not going to make it - you're too small!" Ormsby worked undercover in the subway system and made over 70 felony arrests. Ormsby was a also a leader of Asian Jade Society and active with GOAL/Gay Officers Action League - NYPD- sponsored fraternal organizations.
In Tea & Justice, Ormsby, Chan and Leung share stories about their careers, their personal lives, the stereotypes they defied and how they persevered. The documentary includes interviews with ordinary New Yorkers including teenagers, plus law experts and anti-police abuse activists -- some of whom believe that hiring more women cops will reduce police brutality.
The film's humorous cartoons, lively graphics and powerful, original music enhance the three women's stories and its complex look at race, gender and power.
Tea & Justice is also an Official Selection at Houston Asian Pacific Islander Film Festival (October 12th at the Chinese Community Center). Earlier this month, the film won Third Prize for Best Documentary (ages 13-18 category) at the Kids First! Film Festival in Hollywood.
Tea & Justice received the Audience Award for Best Documentary at the Sacramento Film & Music Festival in August. It also won Best Documentary at the Queens International Film Festival, where Director Vinluan also won an award for Outstanding Contribution to Filmmaking. She was one of 10 women awarded the prestigious 2007 Women in Film Foundation-GM/General Motors international grant. The film also received the Arts & Activism grant from Asian Women's Giving Circle plus funding from New York City Department of Cultural Affairs. Emmy-award winning DCTV/Downtown Community Television is the film's fiscal sponsor.
Tea & Justice's creative team includes Emmy-award winner, Keiko Tsuno (Director of Photography); Sandrine Isambert (senior editor at Witness, the human rights media group formed by singer Peter Gabriel); composer-jazz violinist Jason Kao Hwang and composer-guitarist Andy Cox (formerly with the English bands Fine Young Cannibals and the English Beat).
Director/Producer Ermena Vinluan produced the award-winning shorts Frog Baby (narrative) and Until the Cure (documentary), John Outcalt, director. She was manager of Kuzui Enterprises' New York office, assisting in film acquisitions for Japan and in post-production for Director Fran Rubel Kuzui's romantic comedy feature, Tokyo Pop. Vinluan was also a producer at Paredon Records, now a part of the Smithsonian Institute's collection. She was Artistic Director of Sining Bayan theatre group (San Francisco, L.A., Oakland and Honolulu) and an actress with Teatro Campesino (San Juan Bautista, CA, director Luis Valdez).
La Femme Film Festival runs October 16-19, 2008. It focuses on women filmmakers who want to change, enhance, or become leaders in the industry as a director, writer, producer or director of photography. For more information on the Tea & Justice screening on Friday, October 17th or to buy tickets ($10), visit http://www.LaFemme.org. Tickets are also available at Fine Arts Theatre Box Office, 8556 Wilshire Blvd., Beverly Hills.
For more information on Tea & Justice or to view the trailer, visit http://www.TeaAndJustice.com.
To book Ermena Vinluan for interviews, contact TouchBaseProductions@yahoo.com, 212-729-0148.
###