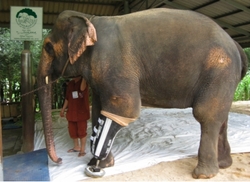 If people understand the connection, they can make educated decisions. We need to get the word out to tourists that partaking in these attractions is leading to the potential extinction of these majestic, sentient beings
San Francisco, CA (Vocus) August 28, 2009
It's easy to get caught up in an elephant attraction when visiting Thailand. The Asian Elephants perform tricks, paint pictures, and provide rides to millions of tourists each year. But these seemingly innocent exhibitions cost the elephants an enormous amount through harsh physical training, abuse and neglect.
"If people understand the connection, they can make educated decisions. We need to get the word out to tourists that partaking in these attractions is leading to the potential extinction of these majestic, sentient beings," said Windy Borman, recently back from filming an Asian Elephant recovering from a landmine injury in Thailand.
In 1993, there were approximately 40,000 elephants. Today, there are a mere 4,000 left. Extinction will occur in our lifetime if we don't act quickly, according to Borman, whose close work with Soraida Salwala, founder of the world's first Asian Elephant Hospital in Lampang Thailand, has motivated Borman to make a documentary film to help spread the message that we all need to help through making better decisions when traveling abroad.
Soraida recently detailed to Borman her thoughts about how we as tourists can help.
1. Don't feed elephants on the street.
2. Speak to the managers at the elephant camps or "sanctuaries" if you see any elephant abuse and send a letter to the Tourism Authority of Thailand.
3. Don't buy a painting by an elephant unless you can see that the elephant is truly enjoying it and the elephant keeper is not poking or prodding the elephant with a bull hook.
If you're not traveling to Thailand but want to help from home, avoid circuses with elephant acts and limit visits to zoos with elephant exhibits. Once zoos' demand for elephants wane, the export of Asian Elephants from Thailand and other countries, will end. Finally, get involved in the conversation. There are many organizations out there supporting the welfare of animals and in particular elephants. For more information on "The Eyes of Thailand" and ways to engage, visit http://www.eyesofthailand.com.
###