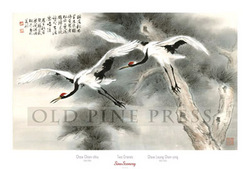 A wise pair of cranes, returning to visit/ circling their old pine trees, singing with joy…
Fort Lauderdale, FL (PRWEB) September 2, 2008
"The Singing Cranes," "Penguin Travelers, Antarctica," and many more first edition watercolor prints are now available for purchase at the new website, OldPinePress.com, perfect for gift giving or as Asian home décor.
A legacy of internationally acclaimed Chinese-American artists Chow Chian Chiu (1910-2006) and his wife, Chow Leung Chen Ying (1921-2005), whose paintings have been exhibited in museums and galleries worldwide, including China, England, France, Italy, Japan, Australia, New Zealand, Canada and the U.S., have been collected by museums and many who seek inspirational wall art.
The artists, fondly referred to by friends and students as Mr. and Mrs. Chow, lived, worked and tutored students in Miami, Florida for over 35 years. They were born in the Canton - Guangzhou region, which has been a center for trade and cultural exchange in South China for many centuries. Though Mr. and Mrs. Chow lived through China's political upheaval of the first half of the 20th Century, they were able to emerge with and share the rich essence of old Chinese culture through their paintings, poetry and calligraphy. Now the public is invited to view and purchase these archival, acid-free, exhibition-friendly prints that will enrich any Asian home décor.
According to spokesperson Kay Hill, the Chows continued to paint, teach, and travel into the 21st century. At 80, Mr. Chow traveled to Antarctica and returned home to Miami to paint "Penguin Travelers, Antarctica," a testimony to its natural magnificence, about which he wrote,
"A year passed since visiting the two Poles,
Memories of ice mountains and ancient glaciers,
Our lives are free as mimic the Immortals."
Another watercolor, "The Singing Cranes," symbolizes long life, happiness, freedom and wisdom. Available as a first edition print, this traditional Chinese inspirational wall art is embellished with a Chinese poem written by the artist and set in calligraphy by Mrs. Chow, "A wise pair of cranes, returning to visit/ circling their old pine trees, singing with joy…"
This and other examples of the Chows' inspirational wall art are now available for purchase and can be shared with others as wedding, corporate, or holiday gifts.
Online gallery spokesperson Kay Hill explains that many of the first edition prints are popular as wall art for children. These include "Fish Playground," "Friendly Rooster Family," and a favorite among many collectors of fine Asian home décor, "Panda."
To find out more about purchasing first edition prints of this inspirational original art, please visit oldpinepress.com.
About OldPinePress.com:
An online gallery promoting the rich legacy of beautiful watercolor paintings and calligraphy of Mr. and Mrs. Chow, OldPinePress.com reproduces their art in authentically sized, high-quality prints, ready to be framed and given as gifts or enjoyed as inspirational Asian wall décor. Orders can be made directly online or by mail. Prints can be shipped internationally.
###