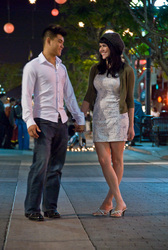 We use the kids' cards that you can get from any local grocery or drugstore
Los Angeles, CA (PRWEB) January 13, 2009
The ABCs of Attraction (http://www.abcsofattraction.com), one of the world's leading dating programs for men has had record success in helping its clients develop the confidence and the 'game' they need to meet and date the women they most desire.
This year, alumni of the program will put the skills they've learned to the test in the company's first-ever Valentine's Day Challenge. Alumni from the organization's boot camps held all over the world will meet in New York, Los Angeles and San Francisco, along with company founder and the World's Greatest Asian Pick-Up Artist, the Asian Playboy with his dating coaches Johnny Wolf and Kevin Feng (from VH1's The Pick Up Artist 2), to see who has what it takes to 'hook up' on Valentine's Day.
"There's a lot of pressure put on guys for Valentine's Day, so we thought it'd be a great idea to get all of our clients together to network, have some fun, and meet the challenge of the elusive Valentine's Day date head on," said Jerry Tran, more commonly known as The Asian Playboy.
The ABCs of Attraction Valentine's Day Challenge will consist of each alumni going out each day of the challenge with Valentine's Day cards, which they will use as conversation starters to help them engage with and meet women they're interested in. Alumni are required to carry a minimum of 10 cards with them at all times, with their contact information and a short message on the back of each card.
"We use the kids' cards that you can get from any local grocery or drugstore," said Tran. "They're really inexpensive and kinda cheesey, but they are great for meeting new people. And even if one girl calls you out on it, there's always another one that will think it's really cute and charming."
Events in preparation for the Valentine's Day Challenge kick off on January 14 with the free Meet & Greet Reunion in New York, Los Angeles and San Francisco, followed by a Valentine Special Boot Camp on February 6 in Los Angeles.
For more information, or to participate in the challenge or sign up for the award winning interracial dating program, visit http://www.ABCsofAttraction.com today. Web visitors can also sign up for the site's free newsletter, join the ABCs brotherhood and reserve a seat in an upcoming boot camp. Tickets are currently available for additional upcoming boot camps in New York, Los Angeles, Toronto, Vancouver, San Francisco, Sydney and Melbourne.
###