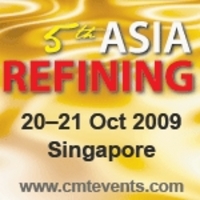 Singapore (PRWEB) August 26, 2009
These are tough times for refiners with crude oil refining projects. They are reeling from a double blow of a fall in product demand and surplus capacity as new refineries come on-stream. Understanding both macro and micro determinants defining the current and future competitiveness of the refining business in Asia, has never been more crucial. Today, Asian refiners' priorities include implementing operational excellence strategies to increase refining margins, and adopting measures to counter reduced demand with options such as switching from light and sweet crude or reducing oil-processing rate to 80 - 90% of capacity or even taking up government fuel subsidies for their Asia crude oil refining projects.
What's in store for Asia refining sector in the near future? That is what 5th Asia Refining, which convenes in Singapore on 20-21 October 2009 will address in light of emerging optimism over the economic recovery spilling into the Asia refining sector. This optimism was bolstered by official data released in August, which reported China importing a record 19.63 million metric tons of crude oil in July. Further downstream, China's refinery runs also increased for the sixth consecutive month to a record 33.11 million tons.
Organised by Centre for Management Technology, 5th Asia Refining will provide clarity on key issues and challenges faced by Asia's refiners and petrochemicals producers. More than 15 top industry executives will share comprehensive market intelligence, review impact of government policies and fuel subsidies, evaluate operational excellence strategies and case studies of crude oil refining projects. More importantly, experts will also share their views on demand trends, its impact on production, and how they are preparing for the industry upturn.
The region's most prominent refining industry players, including Yang Weijun of Petrochina, Dr S.C. Sharma from India's Planning Commission, Dr. Ing. Evita H. Legowo, from Indonesia's Ministry of Energy and Mineral Resources and Cao Hoai Duong from Petrovietnam, will offer perspectives on fuel subsidies, strategies for achieving a competitive advantage in the downturn, and the impact of Asia's mega-refineries on the refining projects at 5th Asia Refining. The International Energy Agency will also provide their outlook for Asia's refining sector from 2009-2014.
Also on the agenda at 5th Asia Refining are sessions on:

Impact of Intra-regional development on Asia's refining outlook
Updates from refining projects "HOT" spots - Iraq, Indonesia, India & China
Operational excellence strategies and case studies
Domestic fuel pricing, fuel subsidies and policies of national regulators
Shifts in Engineering, Procurement and Construction players' approach to managing turn-key refining projects
Cross examination of petrochemicals sector recovery and feedstock demand
Technologies and advances in desulphurization and heavy residue upgrading
CO2 Emissions management for Refineries
5th Asia Refining expects registrations from top refiners, regulators and petrochemical producers from Asia and around the world. hose keen to find out more on crude oil refining projects, operational excellence strategies, fuel subsidies, Asia Refiners and 5th Asia Refining in Singapore or enquire on media partnerships, exhibition space and / or sponsorship packages can contact Ms. Injleep at +65 6346 9113.
###