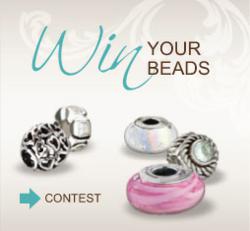 Free shipping is available anywhere in the USA.
New York, NY (PRWEB) July 11, 2011
A Silver Breeze announces the launch of its "Win Your Chamilia Bead" contest. Contestants simply need to register and subscribe to the online newsletter, available at Silver Breeze online store, to be entered for the six biweekly draws of a sterling silver bead. No purchase is necessary.
All contestants must subscribe to the newsletter in order to be eligible. Subscribers can then multiply their chances of winning by sharing the contest with friends. The more friends accept their invitation, the more chances they have of winning! The winner's names will be posted on A Silver Breeze's Facebook page. Be sure to Like A Silver Breeze on Facebook in order to see the winner's names.
A Chamilia sterling silver bead, with a retail value of US$35.00, will be drawn on July 15, July 30, August 15, August 30, September 15 and September 30, 2011, at the Wilton Mall location.
For further rules and regulations, please visit our online store.
A Silver Breeze was founded with a philosophy in mind: give women the freedom to be themselves and embrace a sense of style that's unique to each woman. A Silver Breeze offers women quality sterling silver jewellery that is interchangeable, like the Chamilia, Miss Chamilia, Kameleon and Bijoulee collections.
Stores are located at the Aviation Mall in Queensbury, New York, at the Wilton Mall in Saratoga, New York, and online at http://www.asilverbreeze.com. Be sure to browse the online store to see the all-new Chamilia Siena and Miss Chamilia collections, available for pre-ordering. Free shipping is available anywhere in the USA.
A Silver Breeze ensures every customer's shopping experience will be an unforgettable one.
###