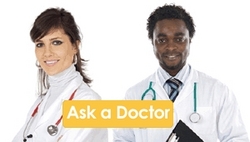 Online social health networks are increasingly informing patients on where, when and how to seek help when needed, a service that is made even more credible when backed by practicing physicians
Coral Springs, FL (PRWEB) June 16, 2009
The latest poll results from eHealth Forum, a worldwide leader of Health 2.0 websites for medical questions, shows that people are clearly taking a dual approach to dealing with their medical and health issues.
The poll revealed that, out of 4,889 respondents, more than half prefer to consult with both a doctor and other patients about health conditions. Although medical experts or specialists remain a trusted source of information (more than one third of respondents prefer doctor-only input), patients prefer not to rely on doctor-only opinions 63% of the time. In fact, consulting other patients experiencing similar health issues seems highly important for people learning about medical conditions.

58% would rather consult BOTH a medical expert and other patients
37% would rather consult ONLY a medical expert or specialist
5% would rather consult ONLY other patients experiencing similar issues
Collaborative health information can save a life
The internet is leading the patient-centered healthcare movement across the nation. Health 2.0 websites open two-way discussions about health conditions, and doctors can increasingly dialogue with this growing audience in new, meaningful ways.
Ask a Doctor services, like those at eHealth Forum, help bridge the information gap between doctors and patients while highlighting the importance of peer patient support.
"Online social health networks are increasingly informing patients on where, when and how to seek help when needed, a service that is made even more credible when backed by practicing physicians," said Lee Weber, community director at eHealth Forum. "In times of medical urgency, reliable and fast answers from peer groups can prevent further medical problems or even save a life."
Recent quote from eHealth Forum's Ask a Doctor forums
"This condition was killing me slowly...I now have a scope for this problem and more information for the best treatment. I couldn't have done it without the help and expertise of Dr. Nikola. He gave me the courage and knowledge to help me talk to my doctors and know what to ask for and help me understand if treatment might be necessary."
More case studies of real people using Ask a Doctor and how it has saved lives
Featured experts in eHealth Forum's Ask a Doctor section include: Dr. Jeff Bailey, Dr. Leonard Grossman, Dr. Antonio Marotta D.C. and Dr. Robert Wascher
About the poll: The medical questions survey was implemented to identify who health consumers would rather consult for health information. The survey was conducted in the US, UK and Canada between April 3 - 21, 2009. 4889 respondents took part. Survey results are unbiased and collected anonymously from visitors to eHealthForum.com.
About eHealth Forum: eHealthForum.com was established in 2003 to help preserve and improve human life by bringing health-related information to all people via the internet. Members post medical questions within 200+ specific health topic areas and receive answers or support from peers and medical experts. All forum content is reviewed by professional moderators to facilitate safe, open, meaningful, and informative interactions.
A top 1,000 Quantcast site, eHealth Forum.com has experienced 25-30% quarterly growth in recent years. Typical visitors to eHealth Forum are aged 18-45 and over 60 percent are female (above the internet average). Traffic figures based on forecast analysis for Q3 2009.
2.9 M+ visits per month
5.0 M+ page views per month
More information about the Ask a Doctor Network
# # #