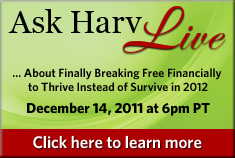 San Diego, CA (PRWEB) December 16, 2011
Peak Potentials Training, one of the largest business and personal success training companies in North America, announces a limited release of the Ask Harv Live free video replay (http://www.AskHarvLive.com/replay). The archived video will be available until 5 pm PST on Thursday, December 22nd.
During the live broadcast on Wednesday, December 14, participants' questions about how to break free financially were answered by Peak Potentials founder, T. Harv Eker, and new CEO, Adam Markel. Of the nearly 5,000 questions that were submitted, Eker answered the top ten most popular questions. Topics included how to work towards financial freedom and simultaneously eliminate debt, the 2 most powerful habits and important characteristics to reach financial freedom, and why people tend to sabotage their own efforts. He also shared his secret to figuring out the right people he should – or shouldn't – work with.
T. Harv Eker and Peak Potentials have been changing people's lives since 1997. This is a chance for those that missed the live broadcast to hear Harv and Adam's answers to questions submitted by like-minded people.
For more information, or to listen to this free replay, go to http://www.AskHarvLive.com/replay.
About Peak Potentials
Founded in 1997, Peak Potentials Training is the world's largest success training company. It has positively affected the lives of over one million individuals in over 100 countries using internal strategies to create real world results. Through its seminars, courses and camps, Peak Potentials Training enables the individual to identify and overcome obstacles that prevent them from reaching their full potential - personally, professionally and financially. Peak Potentials Training has a clear mission: To educate and inspire people to live in their Higher Self based in Courage, Purpose and Joy. Peak Potentials offers: The Millionaire Mind Intensive, Never Work Again, Guerrilla Business School, Enlightened Warrior Training Camp, and many more. Visit http://www.PeakPotentials.com to view all the seminars, courses, and camps.
About T. Harv Eker
Using the principles he teaches, T. Harv Eker went from zero to millionaire in only two and a half years. Eker is founder of Peak Potentials Training, one of the fastest-growing success training companies in North America, and author of the #1 New York Times best-selling book Secrets of the Millionaire Mind. With his unique brand of "street smarts with heart," Eker's humorous, cut-to-the chase style keeps his audiences spellbound. People come from all over the world to attend his sold-out seminars, where crowds often exceed 2,000 people for a weekend program. Eker's teachings have touched the lives of millions of people.
About Adam Markel
After running his private law practice for 17 years, Adam Markel used his entrepreneurial skills to create a successful commercial real estate firm, title insurance company and social media start-up… which led him to financial freedom. Returning to his roots as a teacher, he became a Master Trainer at Peak Potentials, having trained at courses and camps for thousands and thousands of students all over the world. One of the most charismatic speakers you will ever see, Adam trains from his heart, believing that honestly and support bring out the best in people.
###