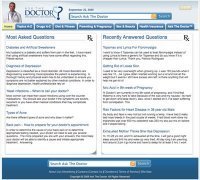 "We were expanding much more rapidly than anticipated and it was time to target a more global audience.  Askthedoctor.com allows us to do that"
Los Angeles, CA (PRWEB) December 28, 2009
AskTheDoctor.com will officially replace AskTheDoctor.ca as an online source of free medical advice to anyone, anywhere, in the world.  Users may submit their medical questions via a simple to use submission form located on the website.
"We were expanding much more rapidly than anticipated and it was time to target a more global audience.  Askthedoctor.com allows us to do that" according to Prakash Chand, CEO of Chand Investment Group.  "We plan to rapidly make our work force global and start hiring in different countries to meet the demand." 
The success of Askthedoctor.ca/Askthedoctor.com has been in the fact that answers are always provided by licensed and fully trained medical doctors.  (Depending on the nature of the question, answers may be provided by general practitioners or specialists).
When a question is answered - visitors are notified by email - and the response is posted on the website that day.  No identifying personal data is shared, thus questions and answers remain anonymous.  The service is provided free of charge by Chand Investment Group and is funded through third party advertisers. 
The current value of the site is estimated around 12.5 million USD and expected to increase rapidly with the new acquisition.  Chand Investment Group is a company owned and managed by Prakash Chand.  They run several service companies and manage several properties throughout Canada.  Askthedoctor.ca was officially launched in summer 2009.  Askthedoctor.com will be officially launched Jan 1st, 2010.
###