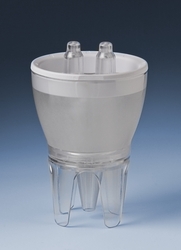 After three weeks on the Nasoneb with Mometasone I am 100% improved!
Camarillo, CA (PRWEB) August 6, 2010
ASL Pharmacy has announced the availability of the new NasoNeb Nasal Nebulizer and are positioning the device as the "Drug Delivery Solution for the Sinonasal Region." There have been many topical sinus drug delivery devices prior to the Nasoneb, from clunky old pulmonary devices to squeeze bottles to teapots. These devices have been used to treat chronic sinusitis symptoms such as nasal polyps, nasal congestion and post nasal drip. But what makes the Nasoneb unique is that it is the only device ever specifically developed for sinonasal drug delivery. All other previous sinus nebulizers have been modified drug delivery devices.
The NasoNeb actually operates on an entirely different principle. By using positive pressure instead of negative pressure (meaning the patient does not have to inhale for the medication to enter the nostrils) the Nasaoneb actively propels the medication right where it needs to go allowing the medication to push beyond nasal inflamation, nasal polyps, nasal congestion, etc. And with a treatment time that is faster than any other nasal device (2 min) and which allows for multiple medications to be used at once (up to 4) the Nasoneb opens up many new treatment possibilities for physicians and patients.
Below are what some Nasoneb patients are saying about the NasoNeb™ Nasal Nebulizer:
Case #1 - "I have had nasal and sinus problems for my entire life. I have used multiple antibiotics, nasal sprays, nebulizers, antihistamines, allergy therapy, decongestants and I have had five nasal/sinus surgeries. After three weeks on the Nasoneb with Mometasone I am 100% improved!"
Case #2 - "I had recurrent sinusitis, recalcitrant to mutiple antibiotics and nasal sprays. I had sinus surgery May 2009 and still continued to have recurrent infections, headaches and pressure. I was then placed on the Nasoneb Nebulizer for 4 weeks and I am much better!"
Case #3 - "Thank you for prescribing the NasoNeb Nasal Nebulizer for my sinus problem. Since I began using it, my post-nasal drip has reduced markedly and I feel like I have been sleeping better. I have suffered from irritated sinuses for many years and the NasoNeb has brought improvement and peace of mind."
Case #4 - "Fortunately, one of my physicians prescribed one of your inhalation medications. As my current ENT did not use these meds, I obtained a referral to another ENT who immediately put me on your inhalation anti-fungal and an anti-biotic using the NasoNeb. Within 8 weeks my symptoms were gone! I could feel the changes in my body and knew I was well. Those around me were more skeptical but I knew. I have now "passed" 2 endoscopes in 4 months."
When observing the Nasoneb in action, the large powerful plume of medication that is launched into the air is indicative of the force required to pass the nasal valve and enter the sinonasal region of the human head. "This is the most powerful sinus device I have ever seen. But when you consider there are over 30 million cases of Chronic Sinusitis each year in America, we need a powerful device in order to combat these chronic sinus infections," states Cal Tarrant, co-founder of ASL Pharmacy.
ASL Pharmacy will be presenting this device at the American Academy of Otolaryngology and Head & Neck Surgery in Boston during the week of September 26, 2010. ENT surgeons are encouraged to view and experience this device on the exhibit floor. ASL Pharmacy will be located in booth #1045.
For more information contact: Cal Tarrant at 877-747-4275.
# # #