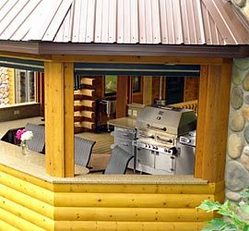 Which is better to cook with - gas, wood or charcoal?
Chicago, IL (PRWEB) September 4, 2009
Kalamazoo Outdoor Gourmet has a long history of outdoor kitchen innovation, creating products that incorporate thoughtful features that make big differences for outdoor cooks. Kalamazoo is interested in what works, and will be sharing that information, along with the latest high-end outdoor kitchen products, at the American Society of Landscape Architects Annual Meeting and Expo, September 18-21 in Chicago, at exhibit space 218.
Consumers have developed a new orientation and their compasses are pointing them toward value. Even the most upscale buyers are embracing the "value ideology," demanding that products be long-lived and offer innovative features that are useful and meaningful, including grills that feature uniform heating across the entire cooking surface, outdoor refrigeration that cools completely and outdoor cabinets that lock out the elements
Gas? Wood? Charcoal?
Kalamazoo finally has an answer to the question: "Which is better to cook with - gas, wood or charcoal?" The answer? Use all three together.
Kalamazoo Outdoor Gourmet invented a technology that allows the cook to use all three fuels at the same time: The Hybrid Grill . A little more than 10 years ago, the company created the Hybrid Grill and uncovered the grilling Nirvana so many cooks asked for - the ability to cook over gas, charcoal and wood all at the same time. The grill's unique design features Hybrid Grilling Drawers that can be filled with charcoal or your favorite wood that sit above powerful burners, giving cooks the ability to take their cooking and tastes to new heights.
Weather Tight Cabinetry
In the outdoor kitchen world, it seems dry storage is not included in the definition of an outdoor cabinet. Kalamazoo changed all that when it introduced its weather-tight cabinets. The secret is the exclusive rain gutter that surrounds the cabinet opening and directs water and melting snow away from the interior. The rain gutter can be found on Kalamazoo Outdoor Gourmet's 11 base cabinets and outdoor sink bases, including the 21" three-drawer cabinet, the 24" waste and recycling cabinet and the 36" sink base, among others.
Forced Air Cooling
Yes, the same technology that keeps your house cool in the summer now keeps the beverages and food in your outdoor refrigerators cold. Kalamazoo Outdoor Gourmet's outdoor refrigeration collection employs forced air cooling to safely store food (even on days where the outside temperature reaches 110 degrees), more quickly cool your beverages and eliminate temperature zones. All of Kalamazoo's 21 refrigeration units, including the keg tappers, refrigerated drawers and wine chillers use forced air cooling.
Oasis Award for Outdoor Kitchen Design: Winning Entry Viewing
Stop by the Kalamazoo Outdoor Gourmet exhibit space 218 on Saturday, September 19 from 1 p.m. to 2 p.m. to get a sneak peak of the 2009 Oasis Award for Outdoor Kitchen Design winning design concept. The Oasis Award is a national outdoor kitchen design competition that recognizes the best conceptual outdoor kitchens. The competition, now in its third year, receives entries from across the United States and the world. The 4th Annual Oasis Awards will open for competition January 2010.
Building an Outdoor Kitchen from the Ground Up
Kalamazoo Outdoor Gourmet is proud to present a class on outdoor kitchen design as part of the continuing education section of the 2009 ASLA Annual Meeting and Expo. The class will allow designers to expand their expertise and capture new business by learning the details of outdoor kitchen design, one of the biggest trends in outdoor living.
Russ Faulk, seminar presenter and vice president of product design for Kalamazoo Outdoor Gourmet, is on the front lines of outdoor kitchen design, working daily with designers and landscape architects to create outdoor kitchens and products that exceed client functional needs and design expectations.
Homeowners frequently call on landscape architects to design beautiful outdoor kitchens. But what does it take to design an outdoor kitchen that really works? This course will teach participants the key functional design principles for kitchen layout, including prep areas, storage, and equipment placement. The speaker will share specific and actionable guidelines that have been developed through years of experience with outdoor kitchens and are founded in some of the best practices for indoor kitchen design.
About Kalamazoo Outdoor Gourmet
Kalamazoo Outdoor Gourmet has a rich heritage of bringing gourmet lifestyles outdoors and is the leading manufacturer of premium-quality outdoor kitchen equipment, including revolutionary hybrid grills that cook with charcoal, wood and gas, and the most powerful and energy efficient outdoor refrigeration available. Please visit http://www.KalamazooGourmet.com for more information or call 1.800.868.1699 to speak with an outdoor kitchen design expert. Visit Kalamazoo Gourmet at the ASLA conference at exhibit space 218.
###