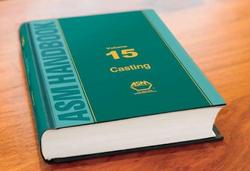 The dominance of just a few alloys in shape casting is due to the fact that successful and economic shape casting typically involves alloy compositions near a eutectic
Ferndale, WA (Vocus) February 11, 2009
Three major articles from a comprehensive new handbook on casting technology may be downloaded free of charge from ASM International, the materials information society.
"Modeling of Microsegregation and Macrosegregation," "Modeling of Stress, Distortion, and Hot Tearing," and "Practical Issues in Computer Simulation of Casting Processes" are available free from the ASM International website.
The articles are from the ASM Handbook, Volume 15, on Casting , a comprehensive new reference for those who specify, manufacture, design or evaluate cast metal components.
The ASM Handbook on Casting is the latest in a series considered to be the bible of metallurgy by generations of materials scientists and engineers. Volume 15 covers the art, science and technology of casting, and also provides an update on casting advances achieved during the past 20 years.
The ASM Handbook on Casting primarily focuses on products and processes of foundry (shape) casting, although primary (ingot or continuous casting) of steel and aluminum are also covered. Shape casting of metal is dominated by cast iron, which constitutes just over 70 percent of the worldwide production of castings on a tonnage basis, followed by steel, copper-alloy, and aluminum-alloy castings.
"The dominance of just a few alloys in shape casting is due to the fact that successful and economic shape casting typically involves alloy compositions near a eutectic," said Srinath Viswanathan, University of Alabama, chair of the Volume 15 editorial committee. "The lower melting points and narrower freezing range of near-eutectic compositions promote better castability."
New topics covered in Volume 15 include computer technology that shortens development time and helps to simulate the casting process, and automation and robotic technologies that improve the productivity and process control of casting. Newer processes like semisolid processing, squeeze casting, lost-foam, vacuum molding and various die-casting technologies are also covered. High pressure die casting of aluminum is another major area that has been expanded and updated in the newest ASM Handbook.
Coverage of sand casting is expanded and consolidated with major articles on green sand molding, no-bake sand molding and shell molding and shell coremaking. Bonded sand mold casting, though well established for many years, is the most widely used method of casting on a tonnage basis. Improvement in methods and materials continue to provide better yields, productivity and product quality. The sand system is also a major factor in the economics of large volume production casting. The book's coverage of sand casting gives product designers and metal casters some common ground for developing successful and economical products.
The ASM Handbook on Casting has been peer-reviewed to ensure quality and usefulness. The editorial committee includes Diran Apelian, Worcester Polytechnic Institute; Rathindra DasGupta, National Science Foundation; Michael Gywn, ATI; John L. Jorstad, J.L.J. Technologies, Inc.; Raymond W. Monroe, Steel Founders' Society of America; Thomas E. Prucha, American Foundry Society; Mahi Sahoo, CANMET Materials Technology Laboratory; Edward S. Szekeres, Casting Consultants Incorporated; and Daniel Twarog, North American Die Casting Association.
Price of the new ASM Handbook on Casting is $264 (ASM members, $212). To order book number 05115G or to download the free sample articles, visit the ASM Store at http://www.asminternational.org or contact ASM Customer Service, ASM International, 440/338-5151, dial 0.
ASM International is Everything Material, the Ohio-based society serving the materials science and engineering community. With 36,000 members worldwide. ASM provides authoritative information and knowledge on materials and processes from the structural to the nanoscale.
Contact:
Rego Giovanetti
Communications Officer
440/338-5151 x5622
# # #