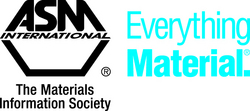 The MPMD event is all about the progress we've made to design medical devices using metallic and biodegradable plastics, bioactive ceramics, nanomaterials and biocompatible alloys
Las Vegas, NV (Vocus) July 2, 2009
The only medical devices event that brings together materials scientists and engineers, metallurgists, product designers, researchers, and clinicians is coming to Minneapolis, Aug. 10-12.
"The Materials and Processes for Medical Devices (MPMD) event continues its tradition of presenting the state-of-the-art in biomaterials science and engineering for medical devices used to repair, replace and regenerate tissues and structures of the human body," said Jeremy L. Gilbert, Ph.D of Syracuse University, the event's program chair.
Now in its seventh year, the MPMD Conference and Exposition is presented by ASM International, the materials information society. For more information about the MPMD event, visit http://www.asminternational.org/meddevices.
Developed for academics as well as industrial and federal researchers, the information presented at the MPMD conference will cover innovations in devices and materials science used to fabricate devices. "The MPMD event is all about the progress we've made to design medical devices using metallic and biodegradable plastics, bioactive ceramics, nanomaterials and biocompatible alloys," Gilbert said.
Major goals include understanding the interaction of these biomaterials with the clinical environment, and understanding the degradation effects of the human body. Materials processing and fabrication, and materials-based innovation in device design as it relates to clinical performance, will also be focused upon.
"MPMD is truly an interdisciplinary program with outstanding presenters representing clinical care, medical device development and basic materials science development for medical device applications," Gilbert said. "Our technical program brings together diverse researchers with the common goal of understanding the materials and clinical effects on the performance of new and current medical devices."
Bioactive/Biomimetic Surface and Drug Delivery Systems/Surface Engineering of Medical Devices covers advances in techniques and improved compositions for surface treatments. This session is devoted to the modification of metal, ceramic, or polymer implantable device surfaces for the improvement of functional properties.
Biostability and Biocompatibility provides data on in vitro assessment of cytotoxicity of Nitinol and Nitinol alloys, the relative roles of osteolysis and hypersensitivity by particulate debris to loosening of metal-on-metal hips, and a possible ossible approach to biofilm inhibition.
Corrosion, Fatigue and Durability of Medical Devices will address current corrosion and durability issues facing implant designers and regulators of both vascular and orthopedic implants. The effects of various manufacturing procedures, surface conditions and surface damage on the cyclic polarization, ion-leaching, and fatigue performance of implant materials will be examined.
Effect of Materials on Surgical Techniques will address the effectiveness of materials for soft and hard tissue repair, novel materials for spinal stabilization and implant fixation to bone, and continuing issues regarding tissue responses to conventional and alternate bearings.
Fabrication will include presentations covering new developments in melting, forming, and coating processes involving Ti- alloys as they pertain to microstructure evolution and properties required for medical implants and devices. Innovations in micromachining, machining, welding, and coating processes will also be covered.
The Modeling session describes the use of modeling methods to evaluate the mechanical behavior of wire and brains, modular joint design as well as perivalvular tissue response to imposed focal stress.
Nanotechnologies with a particular emphasis on composites, surfaces and laser processing will be discussed.
Potential applications of bulk-sized Nitinol components will benefit from the study of shape memory recovery and superelasticity of bulk-dimensioned Nitinol material, while a presentation on R-phase transformation and its effects on practical stent design, and an application of a hepatic vein occluder for controlling bleeding during liver resection surgery will be featured.
This year's Materials R&D presentations encompass five sessions on new metal and ceramic materials for biomedical applications; mechanical properties and processing of titanium alloys; characterization of active biomedical materials and tissues; optimization of active biomedical materials and tissues; optimization of alloys and processing for wire and tubular applications; and materials processing and reliability.
A Regulatory Affairs session provides information on status of Chinese device regulations, issues related to litigation of approved devices and safety of MRI visualization of implant pathology in presence of device.
The Materials and Processes for Medical Devices Exposition on Aug. 11-12 complements the unique, focused nature of the conference. "Unlike other expositions serving the medical device sector, MPMD was not created to be the biggest event, nor was our goal to cover all aspects of medical devices," Gilbert said. "Instead, we have created a targeted event focusing on materials, testing, and processing related to medical devices, that his is where MPMD excels."
For more information and to register for the MPMD event, visit http://www.asminternational.org/meddevices or call ASM Customer Service at 440.338.5151, ext. 0, or 800.336.5152, ext. 0.
To fill the knowledge gap between the innovators who design medical devices and the engineers who best understand materials and their capabilities, ASM International launched its Materials & Processes for Medical Devices (MPMD) initiative in 2003.
The growing need for reliable materials information by the medical devices community has resulted in a growing number of new events and services, including the Materials for Medical Devices Database, MPMD seminars and the MPMD Conference. For more information, visit http://www.asminternational.org/mpmd.
###