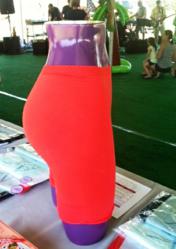 The best part will be when Aspaeris cuts the check for The Leukemia & Lymphoma Society
New Haven, CT (PRWEB) May 22, 2012
Aspaeris Pivot Shorts (APS™), the only technical compression short designed exclusively for female athletes that improves performance, speeds recovery and prevents injury, made their retail debut at The Leukemia & Lymphoma Society's Pineapple Classic 5K with Obstacles in Greenwich, CT on Saturday, May 19, 2012. The Aspaeris booth sported a purple half mannequin displaying a pair of red APS™ and provided free home-baked cookies. Marketing Director, Kari Ricigliano greeted runners of all ages as they stopped by. Many were soaking wet from the final slip and slide obstacle, but grinning and clutching their hard-earned pineapples.
"It was great seeing people have fun while running, and racing for a good cause," says Ricigliano. "The Pineapple Classic 5k was a perfect race for Aspaeris to leap off the internet and help female athletes have fun, stay safe, and be less sore the next day! The best part will be when Aspaeris cuts the check for The Leukemia & Lymphoma Society."
Aspaeris will donate $5 from each sale to The Leukemia & Lymphoma Society. All female contestants were given a 50% off coupon for a pair of Aspaeris Pivot Shorts(APS™). All coaches and runners with the Connecticut Chapter of The Leukemia & Lymphoma Society Team In Training program have also been given a 50% discount on their first pair of APS. Aspaeris will continue to provide support to home-based runners with a presence at four Hartford Marathon Foundation Races and with continued discounts for Connecticut-based teams.
About Aspaeris
Founded by Samara Innovations, Inc in 2010, Aspaeris is a female-centric sportswear company that strives to protect athletes from injury and enhance their performance with advanced compression apparel. The Aspaeris Pivot Short (APS™) was created to help prevent non-impact ACL injuries in high-performance female athletes. APS™ is a unique compression short that has two layers. The outer short is a high performance compression short designed to support muscles. The inner short uses patent-pending technology called Dual Sensory Compression Bands™ to help guide the athlete into proper position while she pivots and runs. Aspaeris sponsors the NoACLHurt blog which features stories on recently injured or recovering female athletes. Athletes can also engage Aspaeris via Facebook and Twitter.
To learn more about APS™, visit AspaerisPivotShorts.com
To learn more about the Pineapple Classic 5K with Obstacles, visit pineappleclassic5k.org/ct
To learn more about The Leukemia & Lymphoma Society's TNT program, visit teamintraining.org/ct
Media Contact:
Allison M. Whittaker
240-515-8929
AspaerisPivotShorts.com