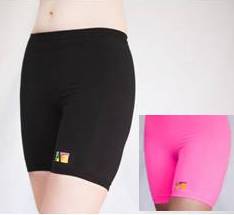 "During the run, I noticed they stayed put very well, kept my knees pain-free, and were very comfortable."
New Haven, Connecticut (PRWEB) February 05, 2013
Aspaeris, a company that provides performance-enhancing, injury-prevention compression sportswear for female athletes, announced today that Aspaeris Pivot Shorts Gen2™ stock has arrived and is now available for purchase at AspaerisPivotShorts.com. The APS Gen2™ costs $65 and comes in black and a newly-released Aspaeris pink. Anyone who has purchased the original Pivot Shorts in the past three months can use their special $10 gift certificate with free shipping toward their first purchase of the Gen2 from today through February 12, 2013.
In response to a growing community of athletes using the original Pivot Shorts, the Aspaeris team has developed this second-generation short with enhanced fabric, fit and compression features. The new APS Gen2™ boasts an improved fabric weave with reinforced seams that will extend the compression life of the short, as well as a stylish, colorblock logo. Additional features include a newly designed crotch, comfort waistband, and adjustability of the dual layers at the leg opening. Like the original Pivot Short, the Gen2 has an inner short with Dual Sensory Compression Bands™ that help guide the athlete into proper position while she pivots and runs, which powers performance, speeds recovery, and prevents injuries.
The APS Gen2™ has been well received by 24 female testers ranging in age and athletic pursuits. Many remarked on the comfortable fit and compression benefits. "During the run," tester and softball player Denise Pupo reports, "I noticed they stayed put very well, kept my knees pain-free, and were very comfortable."
After wearing Gen2 on several 10 to 11 mile runs, Megan Lee comments, "The waist is a good height, the compression is great, and I love the new inner/outer shorts design."
"My hip flexors and quads were noticeably less sore after my long run," trail runner Stacey Claasse remarks, "I had always thought they would be too hot but they were not and wore nicely for the whole long and sweaty run."
Several testers also commented on the recovery benefits. "I wore them for recovery two days after my first half marathon," Robyn Marshall writes in her evaluation. "...Overall, I love the fit and love the ease of putting them on, as well as the inner/outer bands staying together."
"I see more of a benefit for the post-workout recovery," notes Danielle Marquis after testing the Gen2 in a crossfit workout.
"After a tough workout (non running), one where I certainly would have been sore the next day," reported Ashlie Crawford, "I threw these on, hung out in them for about 4-5 hours and then went to bed. The next day, no soreness."
Additional information on Aspaeris Pivot Shorts Gen2™ is available at AspaerisPivotShorts.com.
About Aspaeris
Founded by Samara Innovations, LLC in 2010, Aspaeris is a female-centric sportswear company that strives to protect athletes from injury and enhance their performance with advanced compression apparel. The Aspaeris Pivot Short (APS™) was created to help prevent non-impact ACL injuries in high-performance female athletes. APS™ is a unique compression short that has two layers. The outer short is a high performance compression short designed to support muscles. The inner short uses patent-pending technology called Dual Sensory Compression Bands™ to help guide the athlete into proper position while she pivots and runs. APS™ is the only compression short designed specifically for females that improves performance, speeds recovery, and prevents injuries. In a recent survey, 80% of Pivot Short users reported a performance increase and 62% reported significantly faster recovery time when wearing the shorts after long runs. APS™ is being worn by thousands of new users and has been tested by over 100 premier sports medicine professionals and athletic trainers. APS™ was worn by the fastest all-female Ultra team in the Ragnar Relay SoCal 2012 and is a proud sponsor of the Hartford Marathon Foundation. Athletes can also engage Aspaeris via Facebook and Twitter.
To learn more about APS™, visit http://www.AspaerisPivotShorts.com.
Click here to learn more about Aspaeris Pivot Shorts Gen2™
# # #