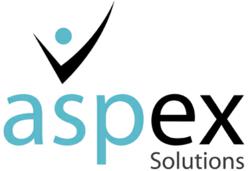 "Our new company name celebrates prior successes, while positioning ourselves to build on these successes for years to come."
Skokie, Il. (PRWEB) January 19, 2012
General ASP, Inc., the most trusted provider of HR technology solutions to K12 school organizations in the United States and the 22nd fastest growing company serving the education market (2011 Inc. 500 | 5000), today announced its new company name, Aspex Solutions. With its flagship applicant tracking product, AppliTrack, being used in over 1,700 school districts throughout the United States, the company is changing its name from General ASP to Aspex Solutions to better reflect its dominant position in the K12 market as a provider of innovative solutions to common K12 HR problems.
"When I started and named General ASP almost 14 years ago, the word 'General' allowed me to be flexible with what our company would offer our clients. I chose to add 'ASP' to indicate our work in web-based software design," explained Abe Reese, President and Founder of Aspex Solutions. "I believe the name, Aspex Solutions, allows us to leverage the recognizable 'ASP' that the K12 market has grown to trust while allowing us to position ourselves as not just providers of a computer software, but as a dynamic solution that can be tailored to meet the needs of each individual client."
In conjunction with the name change, the company also announced that each of its existing products, AppliTrack and Polaris Selection (TeacherFit, JobFit, and AdminFit), will now be branded using the highly recognizable AppliTrack name:
AppliTrack Recruiting is the most popular online recruiting and hiring cloud platform in K12 education. Paired with K12JobSpot.com, the most popular K12 job board in the United States, AppliTrack Recruiting continues to be the system of choice for K12 hiring professionals.
AppliTrack Selection, formerly Polaris Selection, offers three research-based applicant prescreening tools: TeacherFit (designed to screen certified teachers), JobFit (designed to screen classified applicants), and AdminFit (designed to screen applicants for any type of administrative position).
AppliTrack HR Files, formerly AppliTrack HRIS, allows organizations to maintain paperless personnel files. With AppliTrack HR Files, school districts can route "paperwork" to appropriate individuals, manage employee data, and maintain accurate employee records, all online.
"Just as the AppliTrack product suite evolves and grows, so too does our company. Our new company name celebrates prior successes, while positioning ourselves to build on these successes for years to come, as we continue to fulfill our mission of being the most progressive provider of human resources solutions for all aspects of the complex K12 talent management process" said Abe.
As of today, the company has launched a new website, http://www.aspexsolutions.com. Effective immediately, all future business activity will be conducted as Aspex Solutions. There has been no change in the company's management or ownership.
About Aspex Solutions (formerly General ASP)
Since its inception in 1998, Chicago-based Aspex Solutions has been a recognized leader in providing affordable and intuitive human resources software solutions to school districts and other public and private sector agencies throughout the United States, Canada, and Japan.
Our school district clients range in size from 440,000 students to 138 students. Aspex Solutions clients employ anywhere from 100 to 12,000 employees.
# # #