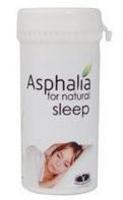 The unique Asphalia natural sleep formula is rich in natural melatonin - so there is no sleeping pill hangover.
Watsonville, CA (PRWEB) September 29, 2010
Today, Asphalia.us, the exclusive importer of Asphalia products in the US, announced it supported of The 3rd Rally For Kids For Cancer Scavenger Hunt charity event held in Toronto, Canada on September 25th by gifting their Asphalia Natural Sleep Formula to all celebrity drivers. Eva Longoria-Parker and Hayden Christensen co-chaired the event, and its sponsors included BMW, Virgin Radio, Fairmont Hotels and PlayStation.
Asphalia is the world's first 'electronic food' supplement rich in natural nutrients, like melatonin, and the most potent and versatile natural antioxidant available. Named for the Greek word for 'safety,' this unique formula replaces the body's natural antioxidants, which diminish during the aging process and deprive the body of sleep-enhancing hormones - one of its major defenses against aging. It is extremely beneficial for the sleeplessness associated with stress and menopause and also counteracts the effects of harmful EMFs from cell phones and the environment. Its building and fortification properties make it perfect for Baby-Boomers!
Asphalia.us is excited to be associated with an event that benefits children with cancer. Lisa Foster, an associate, commented, "We are delighted to have been asked to participate in this wonderful cause, as we believe that every business, whether large or small, has the responsibility to come forward and help those in need." Asphalia.us plans to continue its charity work, and its founders are active in supporting the African-based charity, 'The Power of 1 Dollar' .
Celebrity drivers at the event that received the Asphalia Sleep Formula include: Eva Longoria Parker, Hayden Christenson, Lou Gosset Jr., Robin Antin, Eric Roberts, Aaron Douglas, Bai Ling, Carlo Rota, Casandra Jean, Charisma Carpenter, Damon Allen, Dennis Hall, Elle Patille, Eric Dickerson, Leo Stakos, Lonard Roberts, Lyriq Bent, Michael Pinball, Clemons, Michael Yo, Mya, Natash Balasick, Nikki Bionsky, Richard Dent, Shauna Lamas, Tara Spencer Narin, Tichina Arnold, Tiger Williams, Tiny Lister and Windsor Harmon.
The Asphalia Natural Sleep Formula is new to the US, having been available in Great Britain and Europe for two years. Its main ingredient is Welsh meadow grass, grown in the heart of South Wales and sowed, tended and harvested at the company's location there, without the use of synthetic fertilizers or insecticides in the soil or on the plants. "There are no added colorants or preservatives and the harvesting and preparation techniques preserve the natural nutrient levels." Commented Asphalia's Lisa Foster
"The Asphalia Natural Sleep Formula is organic and gluten-free and approved by the British Vegetarian Society as suitable for vegans and vegetarians". Added Foster, continuing, "It is exclusively available in the US at http://www.asphalia.us for $16.99 for 30 vegetable-based capsules." 1-2 caps a half hour before bedtime is recommended for sleeplessness. Please email info(at)asphalia(dot)us for a sleep study.
Other Asphalia formulas coming soon to the US through http://www.asphalia.us include:
Asphalia for Weight Control
Asphalia for EMF Protection
Asphalia for Memory Enhancement
Asphalia for Pet Health
Resellers, please contact lisa(at)asphalia(dot)us, or call 831.840.3729.
# # #