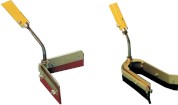 Wake Forest, NC (PRWEB) January 27, 2012
Wear and tear takes toll on almost everything and pavement is one of an affected area which requires regular maintenance schedule. Stop-painting.com's new pavement tool selection that is non-complicated to use for any pavement maintenance.
Pavement tool selection is a compilation of mostly hand held tools for parking lot maintenance. This compilation is packed with the basic devices from a simple street brooms, to seal coating spray tip plus a number of replacement parts in case needed. The recent additions to these selections are:

Parking lot squeegees
Brace kit for brush coater
Layout crayon and layout crayon holder
Pour pot on wheels
Banding machine
Crack squeegee
Bear claw
Asphalt lute
These new parking lot maintenance supplies complement Stop-painting.com's already extensive collection of parking stencils and pavement marking supplies.
InSite Solutions is a leader in the traffic control supply industry, offering expert solutions for effectively calming traffic both indoors and out. Insite Solutions is the manufacturer of Superior Mark industrial floor marking tape, and also holds a patent for a pavement marking tapes. InSite offers its products online at its ecommerce website Stop-painting.com.
Contact Details:
InSite's selection of workplace safety and traffic control solutions are available for sale at their ecommerce website, http://stop-painting.com/. Please contact Cliff Lowe for additional information. The telephone number is 1-866-284-1541 and email is customer-service(at)stop-painting(dot)com.
###