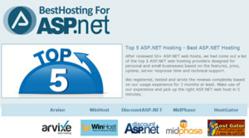 BestHosting4ASP.NET - Get Unbiasedly Hosting Reviews And Pick Up The Right ASP.NET Web Host in 10 Minutes.
San Francisco, CA (PRWEB) April 18, 2013
After 10+ years' experience of ASP.NET web development and 5+ years' experience of web hosting review, BestHosting4ASP.NET (http://besthosting4asp.net) owner Lucy realized there is a increasing demand for cheap ASP.NET web hosting service. Instead of spending lots of time to find hosting companies, reading hosting reviews, and comparing hosting sites, BestHosting4ASP.NET has come up with a series of quick and efficient standards for ASP.NET developers to find a trusted & affordable ASP.NET web host in 10 minutes. The readers to BestHosting4ASP.NET will get honest, extra and independent suggestion on which ASP.NET hosting providers meet the needs of hosting an ASP.NET websites.
In a study case conducted by the US-based web hosting research company in 2013 Q1, only 3% of web hosting companies provide ASP.NET hosting plans, and only 80% of the ASP.NET hosting plans are pricing above $10/mo. That is to say, it is not easy to find an affordable ASP.NET hosting plan for an ASP.NET web developer or Microsoft technology based startup. The same study also shows that it's hard to verify the reputation of an ASP.NET hosting provider found in Google due to the smaller portion of the hosting users.
One of the largest benefits using BestHosting4ASP.NET is time-saving. As said by the founder Lucy, "We have 10+ years' experience on ASP.NET development. In the past 6 months, we had 5 editors signed up, self-experienced and reviewed 25+ ASP.NET hosting plans from different companies, and had come out the list of top 5 cheap ASP.NET hosting based on a series of ASP.NET hosting review standards with the consideration for ASP.NET developers and startups."
As introduced, the following standards are the most important factors to evaluate an ASP.NET hosting provider:
1) ASP.NET hosting loading speed and reliability.
2) Windows Server edition utilized for ASP.NET hosting – the preferred editions are 2012 and 2008R2.
3) Supported Microsoft technology including .NET Framework, ASP.NET MVC, Silverlight, MS URL Rewrite2, MS Chart Controls, Web Matrix, etc.
4) MS SQL Server edition and usage – MSSQL 2012 is the preferred choice.
5) ASP.NET hosting configuration including FULL TRUST, Dedicated Application Pool, Website CPU & memory limitation, Website recycling time, etc.
6) The knowledge and experience of technical support to Microsoft platform and technology.
BestHosting4ASP.NET lists a detailed table outlines the top 5 ASP.NET hosting providers that website owners can have a quick glance and easily understand the difference. BestHosting4ASP.NET has also gotten the exclusive discount for the top ASP.NET hosting providers recommended, up to 50% off the regularly price, including Arvixe, WinHost, DiscountASP.NET, MidPhase and HostGator.
Lucy started in ASP.NET web development in 2002 in Microsoft, devoted herself into many ASP.NET open source projects and websites. She established the first internet business in 2005, and developed the popular web hosting review site BestHostingSearch.com in 2006. 4 years later, she became a full-time web developer/marketer/writer leading a startup in San Francisco, CA. Now, her company has 10+ employees and owns 5 famous websites.