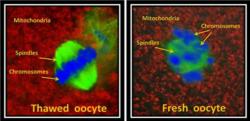 Frozen Egg Bank, Inc. presented their 91% frozen egg survival rate data at the American Society for Reproductive Medicine meeting in 2008.
Fountain Valley, California (PRWEB) October 31, 2012
Since the year 2000, David Diaz, MD and Antoine La, ELD, working on egg freezing at West Coast Fertility Centers (WCFC) in Orange County California, focused on developing protocols to successfully dehydrate cellular water from the egg and replace it with cryoprotectant solutions to shield the egg organelles from crystal formation and toxicity. Changes were made in temperature settings, concentrations of solutions and limited time exposure to the chemicals.
Gradually, as most obstacles were overcome, WCFC developed an experimental protocol under IRB oversight to enroll patients in a clinical trial. In 2005, ongoing interest in donor egg freezing led to the formation of Frozen Egg Bank, Inc. (FEB), a division of West Coast Fertility Centers.
In the 1950's and 60's, researchers struggled to unravel the complexities of protecting the fragile egg from the stress of supercooling and the toxicity of chemical solutions. Since the first live birth following egg freezing in 1986, success rates languished around 10%.
Interest in egg freezing saw a resurgence in the 1990's with sporadic reports of births using unpredictable techniques. As in-vitro fertilization became widespread, the need arose for freezing surplus eggs or embryos from the IVF egg harvest. However, freezing surplus embryos created new problems like ethical concerns about discarding unused embryos, abandonment of embryos and legal dilemmas for fertility clinics. Egg freezing seemed like a viable alternative by storing unfertilized reproductive cells.
THE SAFETY OF EGG FREEZING
The safety of FEB's freezing solutions was demonstrated by undertaking a study visualizing the DNA in the egg's chromosomes and the egg's meiotic spindle apparatus. These are critical structure in the egg responsible for normal cell division. This provided important evidence that ice crystal formation did not develop in frozen eggs with the protective effects of FEB's programmed freezing solutions. Furthermore, there was no damage using the concentrations of chemicals found in FEB's freezing and thawing solutions.
EGG FREEZING SUCCESS RATES
Improvements in freezing solutions led to a surprisingly high survival after egg thaw of 91% even after being frozen for up to four years. FEB has been able to achieve these success rates by thawing just 6 frozen eggs at a time.
HEALTHY BABIES BORN FROM EGG FREEZING AT FROZEN EGG BANK, INC.
FEB has carefully tracked the health of over 70 babies born from frozen eggs at a single program (WCFC). This birth registry is operated using oversight from an institutional review board (IRB). Thus far, no major birth defects have been reported by the babies' parents up to one year after birth. These data are similar to those reported for children born after frozen embryo births. In October 2011, Frozen Egg Bank, Inc. was honored to host the world's first baby reunion of the parents and children born from frozen eggs through our program. This landmark event was held to recognize the pioneering parents who placed their confidence in FEB's program.
WHO MAY BENEFIT FROM EGG FREEZING?
1) Young women newly diagnosed with cancer wishing to avoid damage to their eggs before cancer treatments. Such was the case for courageous Brie who was diagnosed with Hodgkin's Lymphoma at age 23 and chose to freeze her eggs before starting chemotherapy. There's "life after cancer" and it's comforting for Brie to know that her ability to have children in the future won't be compromised. Cancer survivor, Lindsay Beck said, "Freezing my eggs allowed me to preserve my fertility and my reproductive autonomy, both of which were important to me. It was also incredibly hopeful to actively plan for the future – the idea of being a parent one day gave me a reason to fight."
2) Women undergoing In-Vitro Fertilization (IVF) who prefer to freeze surplus eggs instead of embryos for ethical reasons. After undergoing IVF, patients like Stephanie and Rob chose to freeze surplus eggs instead of embryos. As needed later, the eggs are thawed and fertilized to create embryos that are then transferred to the uterus for a pregnancy attempt. Unlike an embryo, the egg is a single unfertilized cell, which for some individuals, may be simpler to discard when no longer needed. With this method, fewer extra embryos are created or need to be stored. More and more patients are favoring this option that avoids some of the ethical dilemmas surrounding frozen surplus embryos.
3) Young women less than 38 years old who need to store their healthy eggs until they're able to start a family. The physical properties that make an egg fertile during her youth can now be preserved by freezing her eggs until such a time when she is ready to initiate her family on terms that are suitable for her. Such is the case for Yvonne, a physician assistant, who expressed, "Being a 34 year old professional female, I have thought about egg freezing for 2 years. I did not want my biological clock to dictate when I should get married and have children. After reading about Dr. Diaz and all the great work he has done, I decided to proceed with egg freezing. It is a sigh of relief knowing my little eggs are now."
4) Women with depleted ovarian function wishing to achieve pregnancy with frozen donor eggs. By freezing the eggs of donors, patients with ovarian failure, premature menopause and ovarian dysfunction can conveniently and easily procure the frozen eggs for their own use to establish a pregnancy. Frozen eggs can also eliminate the uncertainties and pitfalls often associated with obtaining fresh donor eggs. Dr. Diaz recalls the debate more than 20 years ago about whether older women should conceive by using donor eggs. In 1992, Dr. Diaz's patient, Mary Shearing, age 53, gave birth to twins. Today, Mary is active in her early 70's with daughters in college.
DIFFERENCE BETWEEN FROZEN EGGS AND FRESH EGGS
FEB studied the difference between frozen eggs and fresh eggs by performing a "sibling egg study" where some eggs from each patient were frozen then thawed and inseminated while others were inseminated immediately. Some patients received the frozen-thawed eggs and others received the "freshly" inseminated eggs. There was a no significant difference in pregnancy rates, 55% vs. 60% in both groups.
WHY IS IT DIFFICULT TO FREEZE HUMAN EGGS?
Human eggs are fragile whether they are fresh or frozen. The egg is the largest human cell (180 times larger than a sperm cell) that is filled with genetic structures surrounded by water. At birth, most women are born with approximately 2 million eggs that are stored in their ovaries. Each egg is a microscopic, fluid filled cell lying in a protective capsule called a follicle, which in turn is located within the ovaries. Each egg has a pre-determined lifespan; from the time of birth until menopause, the unrelenting loss of eggs is truly staggering in such that by adolescence, 95% of the eggs available for ovulation has been lost, leaving about 100,000 from the original 2 million at birth. Unlike ongoing fresh sperm production in men, there is no new formation of fresh, healthy eggs in women.
For this reason, it is important to stress that proper patient selection and counseling about a woman's suitability for this technique is vital. FEB advises all women considering egg freezing to have suitable screening of their ovarian reserve which can help determine egg quality and success.
ABOUT FROZEN EGG BANK, INC. AND WEST COAST FERTILITY CENTERS
Egg Freezing Specialist, Dr. David Diaz and his Team are among the world's foremost authorities in the Science of Egg Freezing. Dr. Diaz will be holding an educational seminar about Egg Freezing at 6PM on Wednesday, November 14, 2012 at 11160 Warner Ave., Suite 411 in Fountain Valley, California. Call 714-513-1399 to RSVP for the Egg Freezing Seminar.