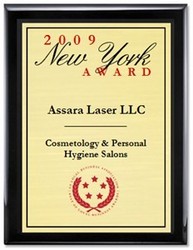 New York, NY (PRWEB) July 26, 2009
Assara Laser Hair Removal Centers (New York, NY) - The premier NYC laser hair removal center - announces that it has been selected for the 2008 New York Award in the Laser Hair Removal category by the U.S. Commerce Association (the "USCA"). (The USACA press release announcing this award may be viewed online at http://www.us-ca.org/P5Q-NW4-J7 )
"We are very excited about receiving this award and appreciate the recognition of our efforts in enhancing the positive image of small businesses throughout Manhattan, particularly in the laser cosmetic services industry. We strive ourselves on delivering top-notch customer service and providing our clients with the latest and safest procedures in laser cosmetics," says Miriam Tayar, Client Services Manager of Assara Laser.
The USCA "Best of Local Business" Award Program recognizes outstanding local businesses throughout the country. Each year, the USCA identifies companies that they believe have achieved exceptional marketing success in their local community and business category. These are local companies that enhance the positive image of small business through service to their customers and community.
Various sources of information were gathered and analyzed to choose the winners in each category. The 2009 USCA Award Program focused on quality, not quantity. Winners are determined based on the information gathered both internally by the USCA and data provided by third parties.
About U.S. Commerce Association. The USCA was established to recognize the best of local businesses in their community. The organization works exclusively with local business owners, trade groups, professional associations, chambers of commerce and other business advertising and marketing groups. The purpose of USCA is to promote local business through public relations, marketing and advertising.
About Assara Laser. Assara Laser is located at 7 West 51st Street, 2nd Floor, New York, NY 10019, across the street from Rockefeller Plaza. Assara Laser is 9a-7p Mon-Fri. Assara Laser offers treatments for laser hair removal, cellulite removal, facial rejuvenation, and spider vein removal using only state-of-the-art FDA approved technology and highly-skilled specialists.
Information on Assara Laser is available by calling 212.956.2691 or on the web at http://www.AssaraLaserHairRemoval.com.
###