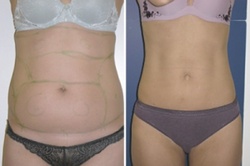 'EZ LIPO(TM)' is the Body and Face Sculpting procedure of the Future
BEVERLY HILLS, Calif. (PRWEB) October 6, 2007
"EZ LIPO(TM)" is a revolutionary breakthrough in the science of laser body and face sculpting. This new procedure refined by Dr. Assassa, combines the use of micro liposuction and a gentle laser therapy called "SMARTLIPO(TM)" that provides permanent body contouring safely with minimal downtime and very affordable fees.
About EZ LIPO(TM)
"EZ LIPO(TM)" is performed under local anesthesia (Tumescent technique). A very small cannula (tube) approximately 1.0 mm to 2.0 mm in diameter is inserted through small puncture incisions to reach and gently extract the deep fat. Once the fat is completely evacuated, a laser fiber, which is fed through a cannula, is then inserted through the same puncture incisions. It's moved back and forth delivering the laser's energy directly to the superficial fat cells, causing them to rupture and easily drain away thus creating smooth surface underneath the skin. In addition the laser energy interacts with the dermis, resulting in collagen shrinkage and skin tightening. "Due to the cannula's small size, 'EZ LIPO(TM)' is considered to be a minimally invasive procedure and can be performed under local anesthesia. Because of laser use, small blood vessels coagulate immediately on contact, resulting in less bleeding, swelling and bruising and a quicker recovery time than conventional liposuction. No stitches are required and therefore virtually no unsightly scars. 'EZ LIPO(TM)' sculpts fat bulges such as tummy, love handles, thighs, bra bulges, double chin, upper-arms and unsightly cellulite. Normal activities can be resumed a few days after the treatment," Dr. Assassa explains.
Benefits of EZ LIPO(TM)
"Many patients come to my office frustrated that parts of their body simply refuse to tone despite their relentless dieting and exercising. Now we can change all of that with 'EZ LIPO(TM)'. This minimally invasive treatment does something that no fitness routine in the world can: melt down stubborn fat and tighten the skin permanently," says Dr. Assassa.
Take off what dieting won't...You can finally have that body you've always wanted! "EZ LIPO(TM)" can dramatically restore the beautiful face and body contour of arcs and convexities and create balance. "'EZ LIPO(TM)' is the Body and Face Sculpting procedure of the Future," Dr. Assassa says.
About Beverly Hills Aesthetics and Sam Assassa, M.D.
Beverly Hills Aesthetics of Beverly Hills, CA., emphasizes non-surgical cosmetic and aesthetic medical services. Dr. Assassa believes that aesthetic surgery requires an instinctive, artistic skills and three dimensions vision. His Artistic talents are expressed by his outstanding results of restoring the face and body contour of arcs and convexities and creating balance and beauty.
Since 1995, Dr. Assassa has been exclusively practicing aesthetic surgery and other groundbreaking procedures in Beverly Hills, California. He was one of the first specialists in the west coast to introduce the "smart lipo" procedure to enhance bodysculpting results. He is the founder of Beverly Hills Aesthetics and is the President of the American Association of Aesthetic Medicine and surgery http://www.theaaams.com.
Dr. Assassa received his medical degree with honors, and then completed his internship at Loyola University-affiliated hospitals in Chicago and his residency at Case Western University-affiliated hospitals in Cleveland. He is regarded as one of the top experts in the field of minimally invasive aesthetic surgery. He routinely travels nationally and internationally to lecture and teach his techniques to other physicians. Dr. Assassa is an associate member of the American College of Physicians, a member of the American Mesotherapy Association, American Academy of Anti-Aging Medicine as well as serves on the advisory committee of the American Aesthetic Medicine Association. He is also a member of the American Society of Aesthetics and Mesotherapy (ASAM).
Dr. Assassa has treated many celebrities from all over the world. His medical advances have been featured in Good Morning America, NBC, KTLA, and Univion, Star magazine, Angelino magazine, Beverly Hills 213, Beauty Cosmetica magazine, The New Zealand Herald, BeautySurgery.com, Cosmetic Design.com.
For additional information or to schedule an interview, please contact Dawn Wilcox, at 310.247-2251. Or e-mail inquiry to http://www.sam.90210@gmail.com.
Metatags and Keywords:
Smartlipo, Smart Lipo, Laser Lipo, Laserlipolysis, Cool Lipo, Liposuction, Lipo, Liposculpting, Body Sculpting, Love handles, Tummy Bulge, Double chin, Turkey Neck, Lipo Zap, Lipodissolve, Lipo Raze, Fat Belly, Saddle Bags, Non-Surgical Liposuction