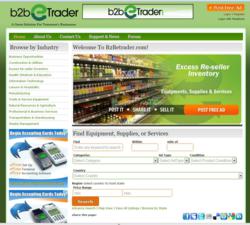 B2Betrader.com was created with small business entrepreneurs' interest in mind, says the founder.
St. Petersburg Fl. (PRWEB) November 22, 2011
At a time when more and more businesses are looking for a ways to save money, B2BeTrader announces the launch of a new website with a clever solution. A free directory where businesses can list their used restaurant equipment, medical equipment, farm equipment, heavy equipment, or anything else they're looking to sell. Giving businesses a powerful tool in asset recovery. This networking forum site combines classified ads, directory listings and auction sites all into one simple and easy to navigate website. At B2Betrader.com not only can you post ads for equipments, but also licenses, permits, patents, special offers, coupons and much more.
B2Betrader's motto is "A green solution for tomorrow's business." The companies' development was notably enhanced by the idea of recycling, reusing and reducing items and equipment that are rarely considered productive after short use and often turned into waste. Now businesses can re-market that used equipment and give it a new life cycle by choosing to re-use. It's a win win situation for all of us. Ultimately, going green pays.
B2BeTrader's co-founder, Jovan Haye, saw the need for a new way for entrepreneurs and business owners to find the equipment they need to get started or to be more efficient with their capital. At the same time, he wants us all to understand our duty to Mother Earth and the importance of reducing our carbon footprint, especially as society is entering into a newer greener era.
"The old guard has collapsed under its own weight," Jovan said, "and green entrepreneurs are ready to take on the challenges of building eco-friendly businesses that reduce our impact on this planet. We think purchasing used and recycled equipment is great way for these up-and-comers to start or do business more efficiently."
It's a time when ecological and economical are meeting face to face. In a bid to reduce their spending on equipment, businesses are looking to online classifieds like B2BeTrader. As a result, these same businesses often find recycled equipment that more than meets their needs. Eco-friendly is now becoming wallet friendly.
Some businesses don't even have to purchase equipment. They can barter and trade with other companies, exchanging their own equipment or services for other needed resources. "You know, it's funny," Jovan said. "I never would have imagined B2BeTrader could become such a hotspot for online bartering. It just goes to show there's more than one way to skin a cat these days, especially in this challenging economic climate."
Coming soon:
B2BeTrader is developing a mobile app that takes all of the hard work out of posting an ad while on the go. You snap some photos, write up a quick description, and it's all done. Post It - Share It - Sell It.
Post It. Take a few pictures of the used equipment with your mobile phone and type up a quick description.
Share It. Your equipment will not only get listed on B2BeTrader. It will show up on all of the social media outlets B2BeTrader is connected to.
Sell It. With all the visibility your equipment is getting, you'll start getting inquiries right out of the gate. It won't be long before you find someone who needs it.
If interested in buying or selling your used restaurant equipment, office equipment, medical equipment, farm equipment, heavy equipment or even supplies and services, please visit B2BeTrader at http://www.b2betrader.com
On Facebook:
facebook.com/pages/B2Betrader/241082985932618
On Twitter:
twitter.com/#!/b2betrader
On LinkedIn:
linkedin.com/pub/b2betrader-com/38/893/1a7
About Us:
B2Betrader is a business to business (b2b) classified and directory website. This website serves businesses that are looking to get the most out of their assets whether they are equipment, supplies or services. This website will help businesses operate efficiently, and at the same time, help the environment by reducing unnecessary waste. B2Betrader is a one-stop shop for companies' procurement buyers, supply chain / outsourcing management teams to buy, sell, trade and barter equipment, supplies, services and any other assets. As businesses are scaling back due to the economy, this website will be an important source for raising capital to help finance upcoming new projects or help with the maintenance of current infrastructures.
###