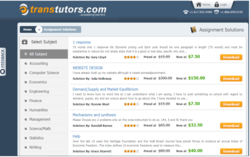 Further we will make this new section available for Free on some of the public holidays like Christmas to make students benefit and learn for Free.
Albany, NY (PRWEB) May 30, 2013
Transtutors sets a new benchmark by recently introducing Assignment Solutions service allowing students to get instant answers for over 200 k frequently asked academic questions at half the price. The service also offers a platform for experts to earn lifetime royalties by sharing their answers on the website.
All answers listed on Assignment Solutions are available at a discount of more than 50% as compared prices charged by any other online-education company. On top of that, students get these instant answers in simple 3 step process:
1) Visit Assignment Solutions
2) Choose a desired category and click 'download' against a question to view it completely
3) Pay the price and get the answer
Assignment Solutions is a user-friendly service comprising answers on a wide range of categories. It takes users to a step by step guide on various questions that students from different academic backgrounds may have.
"We couldn't be more pleased about this launch. As a pioneer in online-education industry, we often come across students with common queries and questions like where would I get instant homework assignments online, which company can do my homework instantly at affordable price and if online assignments for sale are trustworthy. While developing Assignment Solutions, we took all such common queries into account. Assignment Solutions is fast, safe, affordable, and this is where you get all your academic questions answered. Further we will make this new section available for Free on some of the public holidays like Christmas to make students benefit and learn for Free. Transtutors believes in making students' lives easier and education more accessible to all". Aditya Singhal, Director of the company (TransTutors), said during an event held to introduce Assignment Solutions.
Assignment Solutions not only benefits students, but also various experts by allowing them to earn a lifetime royalty. The experts, just like students, can go to the list of over 1 million questions, and submit the answer of the question of a particular choice. Once the answer is approved, it will be listed on Assignment Solutions for students to view and buy. Experts earn royalty every time their answers are purchased by the students worldwide. TransTutors offers independent source of income during such an unpredictable economic time where chances of lifetime earnings are rare.
About the Company
Transtutors, a unit of TransWeb Global Inc., is a market leader in providing a wide spectrum of online educational services on homework, assignment and tutoring requirements. Transtutors covers 500 topics covered in an umbrella of 9 major subjects including Accounting, Finance, Humanities, Management, Engineering, Science and Mathematics, Economics, Statistics. Ranging from simple algebra questions to complex financial case studies, Transtutors assists around 1000-1500 students per day for their academic needs handled by 200 in-house experts available in office 24x7 to deliver top-rated service on time.