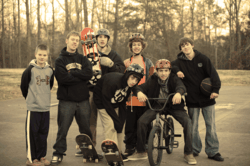 "Getting to see practical applications every day has taught me much more than just sitting in a classroom could," said Assistant Counselor, Garrett Durham.
Chestnut Mountain, Ga. (PRWEB) February 11, 2013
Eagle Ranch children's home is now accepting applications for assistant counselor positions. The new assistant counselors will start in May and June, with an opportunity to work at the Ranch for up to three years.
Recent or upcoming college graduates are great candidates for this unique and fulfilling job opportunity. The positions are full-time and ideal for college graduates with either a field-related degree or an interest in exploring career opportunities with troubled youth and families in crisis.
No experience is necessary. Assistant counselors are trained to work within a team of houseparents and Licensed Professional Counselors to provide care and therapeutic treatment for up to seven children and their families. This position provides an extraordinary opportunity to learn more about counseling and family dynamics, while gaining hands-on experience.
"The biggest thing I get out of being an assistant counselor is the opportunity to get experience in the field of counseling. I have learned so much through the wisdom of all the people who mentor me, invest in me and care for me here," said Assistant Counselor Sally Turner.
"Getting to see practical applications every day has taught me much more than just sitting in a classroom could," said Assistant Counselor, Garrett Durham.
Eagle Ranch serves 24 girls and 42 boys on its 270-acre campus. The children live in homes with peers of the same gender and age range, with no more than seven children per home. A houseparent couple and an assistant counselor staff each of Eagle Ranch's 10 homes. All assistant counselors live on the Ranch's beautiful campus in homes that are separate from the children's homes.
Assistant Counselors: Mentor and Encourage Hurting Youth
Assistant Counselors receive a small salary and excellent medical insurance. They also receive a furnished, private room in a house with other assistant counselors (same gender) and free utilities, access to the Ranch food pantry, pool, gym, and lake with fishing and canoeing. The Ranch is located on 270 beautiful acres in the foothills of the north Georgia Mountains, yet is only an hour drive from Atlanta.
For application directions, a full job description and list of frequently asked questions for assistant counselor positions and other employment opportunities at Eagle Ranch, visit Eagle Ranch.org.
About Eagle Ranch
Eagle Ranch works with children in crisis, focusing on family restoration and reunification. Founded in 1985, the Ranch serves children from North Georgia and metro Atlanta, providing home life, counseling and education for the children on a 270-acre campus in southern Hall County. It is the largest long-term residential facility for children in Georgia. Through its global outreach program – the Wings Initiative – Eagle Ranch also equips others called to develop homes for children in need.
For more information, contact Eagle Ranch at 770-967-8500 or log onto EagleRanch.org.