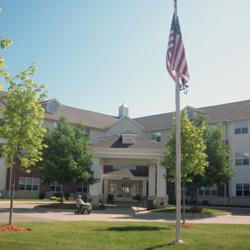 You'll have the opportunity to bid on Gift Baskets, with all of the proceeds benefiting the Batavia United Way Adopt-A-Family program
Bradley, Illinois (PRWEB) November 28, 2012
Heritage Woods of Batavia, a BMA affordable assisted living community in Kane County, Illinois, will be hosting its annual Tree Lighting ceremony at 7 p.m. on Tuesday, Dec. 4.
The community provides older adults of all incomes with the opportunity to live in a residential apartment-home environment and receive personal assistance and help with medications. The Tree Lighting ceremony will feature the Batavia High School Madrigal Choir singing choral renditions of familiar Christmas songs and Santa Claus will be here to visit with children, says Jennifer Hanke, Director of Marketing for Heritage Woods of Batavia. "We'll be serving Holiday cookies and holding a Silent Auction," she adds. "You'll have the opportunity to bid on Gift Baskets, with all of the proceeds benefiting the Batavia United Way Adopt-A-Family program."
To RSVP or for more information about the Tree Lighting Ceremony , call Jennifer at 630-406-9440 or e-mail her at marketing(at)hw-batavia-slf(dot)com The Heritage Woods of Batavia affordable assisted living community is located at 1079 E. Wilson St. in Batavia, Illinois.
The community is fully certified to operate through the Illinois Supportive Living program and is managed by BMA Management, Ltd., the largest provider of assisted living in Illinois.
"At Heritage Woods of Batavia, we offer older adults a wonderful alternative to a nursing home or to struggling alone at home," says Hanke. "Because we operate through the Supportive Living program, we are able to serve adults 65 and older of all incomes, including those on Medicaid."
Residents live in private apartments that feature a kitchenette, spacious bathroom with shower and grab bars, and an emergency alert system.
Certified nursing assistants are on-duty 24 hours a day, seven days a week. Meals, housekeeping and laundry are among the included services.
"Our focus is on providing residents with love, compassion and dignity in addition to the care and assistance that they need," says Hanke.
Based in Bradley, Illinois, BMA manages 36 senior living, assisted living and memory care communities in Illinois.
Among the communities managed by BMA are the Heritage Woods affordable assisted living communities in Bolingbrook, Plainfield and Yorkville, Illinois, and the Heritage Woods affordable assistance living and affordable memory care community in South Elgin, Illinois.
For more information on BMA Management, Ltd. and the managed senior communities, please visit http://www.bma-mgmt.com