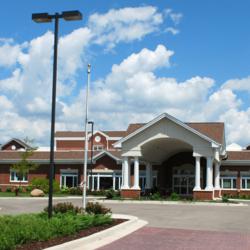 The East Bank Commanders are a 13-piece band
Bradley, Illinois (PRWEB) November 12, 2012
The East Bank Commanders jazz band will be performing at 2 p.m. on Thursday, Nov. 15, at Heritage Woods of Belvidere, a BMA affordable assisted living community in Belvidere, Illinois.
The Heritage Woods community, which is located at 4730 Squaw Prairie Rd., provides older adults with the opportunity to live in a residential apartment-home environment and receive personal assistance and help with medications.
The East Bank Commanders are a 13-piece band that is primarily composed of retired gentlemen. Their performance at Heritage Woods of Belvidere is free and open to the public.
For more information of the jazz band performance or Heritage Woods of Belvidere, call Robin Bertram at 815-544-9495.
Heritage Woods of Belvidere is fully certified to operate through the Illinois Supportive Living program, which enables the community to serve older adults of all incomes, including those on Medicaid.
The community is managed by BMA Management, Ltd. The company, which is based in Bradley, Illinois, is the largest provider of assisted living in Illinois.
"Affordable assisted living communities such as Heritage Woods of Belvidere provide a wonderful alternative to a nursing home or to struggling alone at home for older adults who need some help to maintain their independence," says Rod Burkett, President and Chief Executive Officer of BMA Management. 
"Our focus is on providing residents with the love, compassion and dignity that they deserve along with the care and personal assistance that they need," Burkett adds. "Our emphasis is on helping each resident achieve and maintain as much independence as possible for as long as possible."
BMA manages 36 senior living communities in Illinois, housing more than 3,300 home and apartments.
Communities managed by BMA include Heritage Woods of Rockford, in Rockford, Illinois; Heritage Woods of McHenry in McHenry, Illinois; Heritage Woods of Huntley in Huntley, Illinois; and Heritage Woods of Sterling in Sterling, Illinois.
A Heritage Woods affordable assisted living community is under development in Freeport, Illinois. The community is scheduled to open for occupancy in the summer of 2013.
For more information on BMA Management, Ltd. and the managed senior communities, please visit http://www.bma-mgmt.com