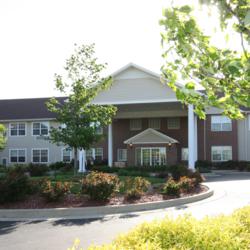 Come and learn about tips and tricks for the cold and flu season and how to keep seasonal depression at bay
Bradley, IL (PRWEB) November 11, 2012
Heritage Woods of Bolingbrook, a BMA affordable assisted living community, is hosting a free community health information program on "Seniors and the Season of Winter" at 6:30 p.m. on Thursday, Nov. 15.
 
The program will program will be presented by Lewis University and be held at Heritage Woods of Bolingbrook, which is located at 550 Kildeer Dr. in Bolingbrook, Illinois.
 
Heritage Woods provides older adults of all incomes with the opportunity to live in a residential apartment-home environment and receive personal assistance and help with medications.
 
"Come and learn about tips and tricks for the cold and flu season and how to keep seasonal depression at bay," says Amy Landsberg, Director of Marketing for Heritage Woods of Bolingbrook.
 
Information about how to reduce the risk of falling also will be covered, Amy adds.
 
For more information, call 630-783-9640.
 
The Heritage Woods of Bolingbrook affordable assisted living community is fully certified to operate through the Illinois Supportive Living program and is managed by BMA Management, Ltd., the largest provider of assisted living in Illinois.
 
"Our focus is on providing older adults with the love, compassion and dignity that they deserve in addition to the care and assistance that they need," says Rod Burkett, President and Chief Executive Officer of BMA. "Our emphasis is on helping each resident achieve and maintain as much independence as possible for as long as possible."
 
Affordable assisted living communities such as Heritage Woods of Bolingbrook provide older adults with a wonderful alternative to a nursing home or to struggling alone at home, Burkett adds. Older adults of all financial means, including those on Medicaid or who only receive Social Security benefits, can qualify for residency.
 
BMA manages 36 senior living communities in Illinois, housing more than 3,300 homes and apartments.
 
Senior living communities managed by BMA include the Heritage Woods affordable assisted living communities in Batavia, Dwight, Ottawa, Plainfield and Yorkville, Illinois.
For more information on BMA Management, Ltd. and the managed senior communities, please visit http://www.bma-mgmt.com