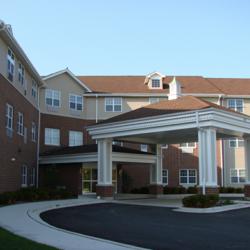 The community serves older adults of all incomes, including those on Medicaid
Bradley, Illinois (PRWEB) December 17, 2012
Heritage Woods of Bolingbrook, a BMA affordable assisted living community in Will County, Illinois, is hosting a Holiday Celebration on Thursday, Dec. 20.
The community serves older adults of all incomes, including those on Medicaid.
The Holiday Celebration will kick-off with dinner at 5 p.m. Violinist Mihai Vlad will be providing live dinner music.
After dinner, Chicago's own Marty Sammons will be providing the entertainment. Sammons is the for Buddy Guy. He will be joined by the esteemed Tim Wilsey in playing jazz and blues favorites.
For more information and to reserve your seat, call 630-783-9640.
The Heritage Woods of Bolingbrook affordable assisted living community is located at 550 Kildeer Dr. in Bolingbrook, Illinois.
The community is fully certified to operate through the Illinois Supportive Living program is is managed by BMA Management, Ltd., the largest provider of assisted living in Illinois.
"Our mission is to provide older adults with the love, compassion and dignity that they deserve in addition to the care and support that they need," says Rod Burkett, President and CEO of BMA.
Based in Bradley, Illinois, BMA operates 36 senior living communities that house more than 3,300 homes and apartments.
Among the communities managed by BMA are the Heritage Woods affordable assisted living communities in Batavia, Chicago, Dwight, Plainfield, Yorkville, Illinois, and Churchview Supportive Living in Chicago.
For more information on BMA Management, Ltd. and the managed senior communities, please visit http://www.bma-mgmt.com