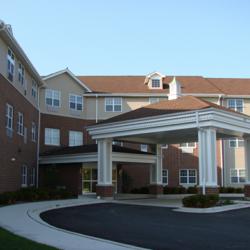 Join us at Heritage Woods as we welcome in the New Year
Bradley, Illinois (PRWEB) December 23, 2012
The Black and White New Year's Eve Gala at Heritage Woods of Bolingbrook will feature a performance by concert vocalist and recording artist Maureen Christine.
Located in Bolingbrook, Illinois, Heritage Woods of Bolingbrook is a BMA affordable assisted living community that serves older adults of all incomes, including those on Medicaid.
The Black and White Gala will start at 3:45 p.m. on Monday, Dec. 31, and feature the music of Christine and drummer Tom Wilsey. Christine has headlined in such renowned Chicago area venues as The Palmer House, The Royal George Cabaret Theatre and the Merrillville Star Plaza Theatre and has had leading roles in such musicals as My Fair Lady, Sound of Music and Music Man.
"We invite you to dress to impress and join us at Heritage Woods as we welcome in the New Year with musical entertainment, succulent hors d'oeuvres, luscious desserts and a champagne fountain to ring in the New Year," says Jolleen Simonson, Director of Marketing for Heritage Woods of Bolingbrook.
"As space is limited, we ask you to RSVP," Simonson adds.
To RSVP or for more information about the Black and White Gala, call 630-783-9640.
The Heritage Woods of Bolingbrook affordable assisted living community is located in Will County, Illinois, at 550 Kildeer Dr.
The community is certified to operate through the Illinois Supportive Living program and managed by BMA Management, Ltd., the largest provider of assisted living in Illinois.
"Heritage Woods provides older adults with a wonderful alternative to a nursing home or to struggling alone at home," says Simonson.
Residents live in private apartments and receive the personal assistance and help with medications they need to maintain their independence.
Each of the apartments features a kitchenette, spacious bathroom with shower and grab bars, and an emergency alert system.
Certified nursing assistants are on-duty 24 hours a day, seven days a week. Three daily meals, housekeeping and laundry services are included.
"Our focus is on providing love, compassion and dignity in addition to care and assistance," says Simonson. "Our emphasis is on helping each resident achieve and maintain as much independence as possible for as long as possible."
Based in Bradley, Illinois, BMA operates 36 senior living communities, housing more than 3,300 homes and apartments.
The communities operated by BMA include the Heritage Woods affordable assisted living communities in Batavia, Dwight, Plainfield, Ottawa and Yorkville, Illinois.