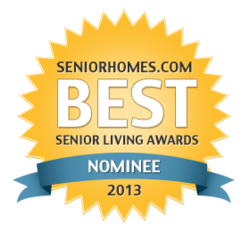 "BMA is proud to have been nominated in the Blog of the Year and Social Media Rockstar categories"
Bradley, Illinois (PRWEB) January 30, 2013
BMA Management, Ltd., the largest provider of assisted living in Illinois, has been nominated for two 2013 Best of Senior Living awards.
Based in Bradley, Illinois, BMA operates 36 senior living communities that house more than 3,300 homes and apartments.
"We are honored to have been nominated in the Blog of the Year and Social Media Rockstar categories," says Rick Banas, of BMA.
The awards program is hosted by SeniorHomes.com, an on-line resource for seniors and their families looking for information about senior living, assisted living, memory care and nursing homes. SeniorHomes.com also posts news and information about senior housing topics.
"Our primary focus with social media is to provide news and information that is of value to older adults and their families and caregivers," says Banas. "Our most recent BMA Blog focused on a presentation by a University of Illinois neuroscientist on what science has to say about our brains and aging. Our most recent BMA E-Newsletter contained dietary tips for diabetics and information about a vibration technique for older adults who are unable to perform aerobic exercise."
The BMA website has information about senior housing options, including assisted living and supportive living communities, and links to national, state and local organizations and resouces that serve seniors.
Voting will help determine the winners in each of the Best of Senior Living awards categories.
Votes can be cast using Facebook and Google+ accounts Until Feb. 4.
More information on how to vote is posted on the BMA website at http://www.bma-mgmt.com at the bottom of the about section
Communities managed by BMA are located throughout the State of Illinois, including in the City of Chicago, the Chicago suburbs and the St. Louis Metro East area.