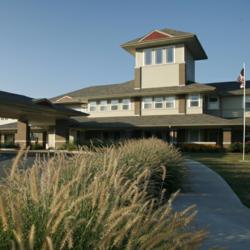 It's A Wrap" Gift Wrapping Party will run from 4 to 7 p.m. on Dec. 19
Bradley, Illinois (PRWEB) December 11, 2012
Prairie Living at Chautauqua will be hosting Visit with Santa on Saturday, Dec. 15, and a Holiday Gift Wrapping Party on Wednesday, Dec. 19, at the affordable assisted living community in Carbondale, Illinois.
The community serves older adults of all incomes, including those on Medicaid, who need some help to maintain their independence.
Santa Claus will be here from 9 a.m. to noon on Dec. 15 to meet with children, hear what they want for Christmas, and see if they've been naughty or nice, says Heather Laughland-Etherton, Administrator of Prairie Living.
Our "It's A Wrap" Gift Wrapping Party will run from 4 to 7 p.m. on Dec. 19, says Etherton. "Bring a non-perishable item for donation to our local food pantries and we'll wrap your gifts at no cost."
For more information about Visit with Santa, the Gift Wrapping Party or affordable assisted living at Prairie Winds, call 618-351-7955.
Prairie Living is located one and a half miles west of Southern Illinois University at 955 Villa Ct. in Carbondale.
The community is fully certified to operate through the Illinois Supportive Living program and is managed by BMA Management, Ltd., the largest provider of assisted living in Illinois.
"We offer a wonderful alternative to a nursing home or to struggling alone at home," says Etherton.
Residents live in private apartments and receive personal assistance and help with medications. Each of the apartments features a kitchenette, spacious bathroom with shower and grab bars, and an emergency alert system.
Certified nursing assistants are on-duty 24 hours a day, seven days a week. Meals, housekeeping and laundry are among the included services.
"Our focus is on providing residents with the love, compassion and dignity that they deserve in addition to the care and assistance that they need," says Etherton. "Our emphasis is on helping residents achieve and maintain as much independence as possible for as long as possible."
Based in Bradley, Illinois, BMA manages 36 senior living communities, housing more than 3,300 homes and apartments.
The communities manages by BMA include the Heritage Woods affordable assisted living communities in Benton, Centralia, McLeansboro and Mt. Vernon, Illinois, and the Cambridge House affordable assisted living communities in the St. Louis Metro East area.
For more information on BMA Management, Ltd. and the managed senior communities, please visit http://www.bma-mgmt.com