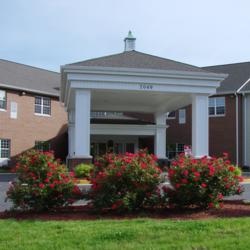 We invite you to come and sample wines from our local Crooked Creek Winery
Bradley, Illinois (PRWEB) November 06, 2012
Heritage Woods of Centralia a BMA senior living community, is hosting a "Sample the Vine" Wine Tasting from 6 to 8 p.m. on Thursday, Nov. 8.
 
The community, which is located in Centralia, Illinois, features senior rental apartments, affordable assisted living apartments, and rental homes for low income older adults.
 
"We invite you to come and sample wines from our local Crooked Creek Winery," says Tom Broughton, Administrator of Heritage Woods of Centralia. 
 
The Crooked Creek Winery is located four miles west of Centralia at 24585 W. 10th Street Rd.
 
The Wine Tasting is free and open to the public, says Broughton.  To reserve your spot or for more information, call 618-532-4590.
 
On Monday, Nov. 12, Heritage Woods of Centralia will be honoring those who served our country in the military with a Veterans Breakfast and Flag Ceremony.  The event is scheduled for 8 to 9 a.m.
 
"All Veterans and their guests are invited," says Broughton.
 
Heritage Woods of Centralia is located at 2049 E. McCord St. in Centralia, Illinois.
 
The community is managed by BMA Management, Ltd.
 
Based in Bradley, Illinois, BMA is the largest provider of assisted living in Illinois.  The company manages 36 communities, housing more than 3,300 homes and apartments.
 
"Our focus is on providing residents with the love, compassion and dignity that they deserve in addition to the services that they need," says Rod Burkett, President of CEO of BMA Management.
 
The communities managed by BMA include Heritage Woods of Benton, Heritage Woods of Flora, Heritage Woods of McLeansboro and Heritage Woods of Mt. Vernon.
For more information on BMA Management, Ltd. and the managed senior communities, please visit http://www.bma-mgmt.com