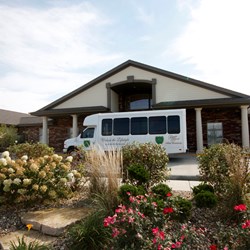 Bridle Brook of Mahomet is a great resource for older adults who need to transition to assisted living or memory care. The community offers healthy lifestyle options, similar to these screenings, throughout the year.
Bradley, Illinois (PRWEB) September 29, 2013
Bridle Brook of Mahomet, a BMA assisted living and memory care community, will partner with Bella Medical Center and Genesis Rehab to provide free arterial and venous screenings on Oct. 10.
The community is located at 1505 Patton Dr. in Mahomet, Illinois.
Scott Brannan and Saumil Shah -- two board certified interventional radiologists from Bella Medical Center -- will discuss arterial and vascular disease.
Bridle Brook will provide meals for those who plan to attend the presentation and get tested.
Three convenient times are available for guests:

8 a.m. (Breakfast)
Noon (Lunch)
5 p.m. (Dinner)
For more information about the screenings or Bridle Brook, call 217-586-3200.
Bridle Brook of Mahomet features assisted living and specialized memory care apartments. Adult day care and respite programs also are available.
"We provide older adults with a wonderful alternative to a nursing home or to struggling alone at home," says Stephanie Holderfield, Director of Sales at Bridle Brook.
In assisted living, residential apartment-home living is combined with the availability of personal assistance, help with medications, and a variety of convenience and support services.
Residents live in private apartments that they furnish and decorate to their tastes. Each of the studio, one-bedroom and two-bedroom floor plans feature a kitchenette; spacious bathroom with raised toilet, shower and grab bars; individually-controlled heating and air conditioning; and emergency alert system.
Certified nursing assistants are on-duty 24 hours a day, seven days a week. Meals, housekeeping and laundry are among the included services.
"Residents also benefit from all of the opportunities that are available to socialize with friends and neighbors and participate in activities and special programs," says Holderfield.
The memory care apartments are designed for older adults with Alzheimer's disease or related dementia.
Bridle Brook of Mahomet is managed by BMA Management, Ltd., of Bradley, Illinois.
BMA is the largest provider of assisted living in Illinois.
"Our focus," says Rod Burkett, President and CEO of BMA Management, "is to provide residents of Bridle Brook with the love, compassion and dignity they deserve and the help and assistance they need. Our emphasis is on helping each resident achieve and maintain as much independence as possible for as long as possible."
Communities managed by BMA include the Bowman Estates affordable assisted living community in Danville, the Eagle Ridge affordable assisted living community in Decatur, and the Prairie Winds affordable assisted living community in Urbana, Illinois.
BMA also manages the Heritage Woods affordable assisted living communities in Charleston, Dwight, Flora and Watseka, Illinois.
For more information about BMA Management; the assisted living, senior living and memory care communities that BMA operates; and the company's management, development and consulting services, visit http://www.bma-mgmt.com or call 1-877-882-1495.