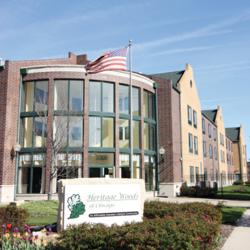 We are extremely pleased to have received a perfect score on the survey
Bradley, Illinois (PRWEB) October 27, 2012
Heritage Woods of Chicago, a BMA affordable assisted living community, has been awarded a deficiency-free certification from the Illinois Department of Healthcare and Family Services.
 
The community, which is located at Fulton and California on the west side of Chicago, Illinois, houses 120 apartments for low income seniors who need some help to maintain their independence.
 
The Department of Healthcare and Family Services is responsible for regulating communities such as Heritage Woods of Chicago that operate through the Illinois Supportive Living program.
 
The survey certification process is designed to ensure that communities are fully operating under the rules and regulations of the Supportive Living Program.
 
In the survey process, representatives from HFS visited Heritage Woods of Chicago to conduct a detailed review of all aspects of the community's operation, including the physical plant, nursing and ancillary services, maintenance, food service and disaster preparation. The survey process also included interviews with residents.
 
"We are extremely pleased to have received a perfect score on the survey," says Ellie Baum, Administrator of Heritage Woods. "Our focus is on providing residents with love, compassion and dignity in addition to personal assistance that they need. Our emphasis is on helping each resident achieve and maintain as much independence as possible for as long as possible."   
 
Heritage Woods of Chicago is managed by BMA Management, Ltd., of Bradley, Illinois. BMA is the largest provider of assisted living in Illinois.
 
In the City of Chicago, BMA also manages Churchview Supportive Living, an assisted living community for low income seniors located on 63rd St. on Chicago's southwest side.
For more information on BMA Management, Ltd. and the managed senior communities, please visit http://www.bma-mgmt.com