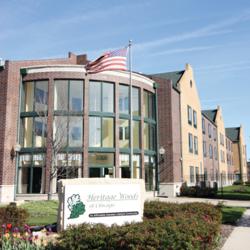 Come get the scoop on Supportive Living
Bradley, Illinois (PRWEB) April 15, 2013
Heritage Woods of Chicago, a BMA affordable assisted living community, will be celebrating Supportive Living Week 2013 with a "Get the Scoop Ice Cream Social" on Monday, April 22, and a "Nacho Ordinary Open House" on Friday, April 26.
Both events will be held from 1:30 to 3:30 p.m. at Heritage Woods, which is located at 2800 W. Fulton St. in Chicago, Illinois.
Heritage Woods is one of the 138 senior living communities in the state that operate through the Illinois Supportive Living program. The community serves low-income older adults, including those on Medicaid, who need some help to maintain their independence.
Supportive Living Week is an annual event sponsored by the Affordable Assisted Living Coalition designed to celebrate the success on the Supportive Living program in enriching the lives of older adults and adults with physical disabilities. In 2013, Supportive Living Week is being celebrated from April 22 through April 26.
"We invite you to join us as we kick-off our celebration of Supportive Living Week with an Ice Cream Social," says Ellie Baum, Administrator of Heritage Woods of Chicago. "Come enjoy scoops of ice cream with your favorite toppings and get the scoop on the Supportive Living."
Cones, sundaes, banana splits and tours of Heritage Woods of Chicago will be available.
"We also invite you to attend our Open House on Friday," says Baum. "Come learn what makes us different from other housing options for seniors and why Heritage Woods is not your ordinary senior living community."
Of course, there will be plenty of Nachos with a vareity of cheeses and dips available, Baum adds.
For more information about the ice cream social, open house or Heritage Woods of Chicago, call 773-722-2900.
"The community provides older adults with a wonderful alternative to a nursing home or to struggling alone at home," says Baum. "Residents benefit from living in a residential apartment-home environment and receiving personal assistance and help with medications."
Certified nursing assistants are on-duty 24 hours a day, seven days a week. All three meals each day, housekeeping and luandry are among the included services.
"Residents also benefit from all of the opportunities that are available to socialize with friends and neighbors and to participate in social and recreational activities and special programs," Baum says.
The community is managed by BMA Management, Ltd., the largest provider of assisted living in Illinois.
Based in Bradley, Illinois, BMA operates 36 senior living communities, housing nearly 3,400 homes and apartments.
"Our focus is on providing older adults with the love, compassion and dignity that they deserve in addition to the help and assistance that they need," says Rod Burkett, President and CEO of BMA Management.
Communities managed by BMA include Churchview Supportive Living on the southwest side of Chicago and the Heritage Woods affordable assisted living communities in Batavia, Bolingbrook, Gurnee, Manteno, McHenry, Plainfield and Yorkville, Illinois.
BMA also operates the Heritage Woods assisted living community in Huntley, Illinois, and the Heritage Woods affordable assisted living and memory care community in South Elgin, Illinois.
BMA will be managing affordable assisted communities that are being developed in the Chicago area by Bravo Properties. Deer Path of Huntley will serve adults 22 to 64 with physical disabilities and St. Anthony of Lansing will serve adults 65 and older. Reservations are being accepted for both communities, which are scheduled to open for occupancy in the summer of 2013.
For more information about BMA Management or the communites that the company operates, visit http://www.bma-mgmt.com or call 1-877-882-1495 toll-free.